Noh Alam Shah
Former hardman Noh Alam Shah shows his softer side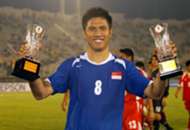 It's not hard to see why former Singapore international Noh Alam Shah was given the nickname 'Ah Long' especially with a fiery temper that could set a football field on fire.  In his prime the striker was one of the most fearsome forwards in all of Southeast Asia. His raw power and eye for goal led Singapore to two Suzuki Cup triumphs in 2004 and 2007. A seven-goal haul against Laos still stands as the record scored by a single player in a match at the competition and also contributed greatly to his record overall tally of 17 AFF goals. But like most geniuses he was flawed. While his talent was applauded his temperament was admonished. Like Manchester United's Eric Cantona, Noh Alam Shah was capable of the beautiful and the ugly.
Since hanging up his boots, the former Singapore hitman who scored 35 goals in 80 appearances has worked in Komoco Motors' rental division. He also had a stint as a Grabcar driver which he said was due to the passion he had lost for football, when in the final months of his contract with Tampines Rovers. But the 37-year-old is now happy to be back in the game after being announced as part of, interim national team coach, Fandi Ahmad's backroom staff. Noh Alam Shah will be appointed assistant team manager of the national team.
However his joy quickly turned into despair when he had to explain to friends and family that he was still alive, hale and healthy. This happened after a former footballer with a similar name - ex-Woodlands Wellington player Nur Alam Shah - died last Friday (May 18) of a suspected heart attack. The situation got worst Malay-language news portal BeritaMediacorp erroneously carried an online article on Saturday afternoon reporting that Noh Alam Shah had died.  The article has since been taken down, and BeritaMediacorp posted an apology to Noh Alam Shah and its readers on its Facebook page, adding that it had deleted the article "just a few minutes after it was published".
After explaining to everyone dear to him what had happened and clearing the air. Noh Alam Shah immediately displayed maturity and grace; traits many accused him of lacking during his playing days, when he mentioned that his immediate priority is to try and help the family of the late Nur Alam Shah, after it came to light that he had been trying to raise $120,000 for his four-year-old son Muhammad Royyan to have treatment for a rare heart defect he was born with, called Hypoplastic Left Heart Syndrome (HLHS). Nur Alam Shah, who was 38, had turned to fundraising platform Give Asia and had raised about half of the $120,000 needed for his son.
It is heart-warming to know the spirit of 'gotong-royong' (mutual aid) still alive in Singapore especially in times of difficulty. Moreover The Football Association of Singapore (FAS) is currently in talks with the Combine Schools FC to organise a charity game to help raise funds for the late Alam Shah's family to assist them during this difficult period. Significantly the former striker and FAS have set an example for the whole country to follow because if we do not help our own fellow Singaporeans, nobody will.  With this episode, it is safe to say that Noh Alam Shah has certainly mellowed over the years and that his belligerent behaviour is consigned to the past.  However we do not mind if he injects some of his fiery ways into the national team players because that might just be the key quality that brings them glory.