Arsenal
Forget about Alexis & Ozil contracts - Arsenal need to purge Wenger & his 'yes men'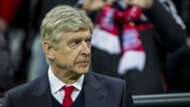 ---
COMMENT
---
Arsene Wenger declared in the aftermath of another drubbing in Bavaria that the mighty Bayern Munich are a better side than Arsenal. Most football supporters, pundits and journalists could have told you the same thing before the Gunners boarded their flight on Tuesday.
But the embarrassing manner in which they capitulated put more credence into the argument that Arsenal don't have the tactical intelligence, defensive knowhow or maturity to progress past the latter stages of the Champions League under Wenger.
It may seem reactionary, hyperbolic and emotive to suggest that Wenger and his closest confidants need to leave at the end of the season but the repetitive nature of Arsenal's failings season after season have become magnified over the past few weeks. The back-to-back defeats to Watford and Chelsea all but extinguished their frail title hopes and even a victory over Hull - which came about in fortuitous circumstances - couldn't hide the fact that Arsenal haven't played to their potential since the victory over Chelsea back in September.
Candidates who could replace Wenger
The usual criticisms levelled at Wenger and his players were once again on display on Wednesday. There was no leadership in the side following the injury-enforced substitution of Laurent Koscielny. Kieran Gibbs was given the skipper's armband when the Frenchman came off, prompting ITV Sport pundit Roy Keane to snipe: "if he is the guy who is going to bring everyone together, you are in huge trouble". That's certainly no stain on Gibbs' name as a player, but his lack of voice in the dressing room and reputation for being one of the quieter players at the club only adds to the scrutiny on Wenger and particularly his captaincy choices.
Gibbs has seen it all at Arsenal. He's one of the club's longest serving players and his roasting by Thiago Alcantara and company on Wednesday only brought back memories of his infamous slip in the 2009 Champions League tie with Manchester United, which allowed Ji-Sung Park to score. The armband selection remains a small part of a much wider concern that was brought up when Theo Walcott was made captain against Chelsea in January 2016 to celebrate his 10 years at the club - a decision which drew widespread criticism, even more so after Arsenal lost the game.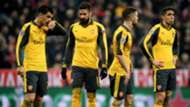 Contract issues surrounding Wenger and his two star players Alexis Sanchez and Mesut Ozil continue to be the focus at Arsenal, but the hard truth is that the priority should be to find a new manager in order to build for next season. Wenger undoubtedly deserves the utmost respect for what he has achieved and done for Arsenal over the past 20 years but even the man himself must realise at the age of 67 that his time with the club is coming to an inevitable yet thoroughly sad finale.
Santi Cazorla is considered the key player in Arsenal's midfield yet he has only played 11 times this season and looks unlikely to return before the end of the campaign due to an ankle problem. Despite his injury issues, he is likely to earn a one-year extension to his contract that expires this summer. There are some voices that this has already been triggered in a similar way to Per Mertesacker and Mohamed Elneny's 'automatic' extensions whereby players have an option in their contract which they can activate themselves. Should Arsenal be giving injury-prone players the power to sign new contracts?
Arsenal are a f***ing shambles
It remains imperative that if and when Wenger does depart at the end of the season, his closest confidants go with him. Boro Primorac is the Arsenal first team coach who has been with Wenger throughout his managerial career after striking up a close working relationship when they were together in Japan at Nagoya Grampus Eight.
Primorac is highly-respected at Arsenal and considered to be one of the few members of staff whose opinion Wenger takes on board, but the club needs to move on and move forward.
There are a number of other staff whose positions should be under threat. Fitness coach Tony Colbert has previously been the subject of scrutiny for his allegedly dated training methods. Meanwhile, academy chief Andries Jonker, who was appointed after being recommended to Wenger by Arsenal CEO Ivan Gazidis, is a figurehead who has attempted to overhaul the academy structure after making multi-million pound changes at the Hale End training ground. Jonker is rumoured to be part of another restructure at the end of the season after the youth team's poor results this season, particularly in the FA Youth Cup where another early exit prompted further questions over Jonker's overall management and direction of the academy teams.
'Arsenal only have two good players'
Wenger's influence and impact at Arsenal is likely to be felt beyond his departure. The decision over who will follow in his footsteps will almost certainly involve the Frenchman himself. Arsenal's board and majority shareholders have limited football experience and will look to Wenger as the guiding point on who the best candidates are to succeed him. What is certain, however, is that the ex-Monaco man cannot continue any longer himself as manager and nor can a number of key members of his coaching staff.