Selangor
Feel free to find another training ground, Selangor state government tells FAS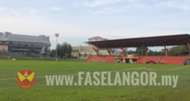 ---
BY        ZULHILMI ZAINAL       Follow on Twitter
---
Following the Selangor FA (FAS') complaint that the training pitch it has been using is substandard, the Selangor state government has told the association it is free to leave and use another ground.
The Selangor state government has let the Red Giants use the pitch situated at the Selangor state secretariat complex (SUK) in Shah Alam as its training ground for over a decade, even after the association fell out with the state at the end of 2016.
Last Friday, FAS president Datuk Seri Subahan Kamal claimed that the state has taken over a building complex initially intended for the association's use, while adding that the use of the SUK pitch has not been limited by the state only for the team. This has caused wear on the pitch, and Subahan claimed it is unsuitable for the Red Giants' use.
The Selangor youth, sports, culture and entreprenuer development executive committee member Amirudin Shari told Selangorkini that the state is happy to let the team leave SUK and find another training pitch.
"We are more than happy to take the field back. There is no problem, they can hand it over to us again.
"FAS can leave and find another pitch that is more suitable.
"The state had let them use it out of charity, so we have no intention of pressuring them and making drastic changes," pointed out Amirudin.
Amirudin also responded that the maintenance of the pitch is actually the responsibility of FAS, as opposed to the state's.
"If they say it is in poor condition, it is because of FAS themselves because they are maintaining it. If they find it unsuitable, then the state is ready to take it back.
"We can let other more-deserving associations use it, or as a center for football development in the state," he added.