MLS
FC Dallas 2017 MLS season preview: Roster, schedule, national TV info and more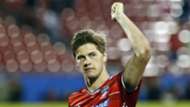 ---

2017 MLS SEASON PREVIEW
---
FC Dallas was close to its goal of winning a domestic treble last season but couldn't find the third trophy. 
After winning the U.S. Open Cup and Supporters' Shield, FCD saw its dream of lifting the MLS Cup and winning all three trophies cut short by the Seattle Sounders, who beat coach Oscar Pareja's side in the Western Conference semifinals. 
MORE: Pareja targets MLS Cup for FC Dallas
Now, Pareja's men will look to strike again, with the key players back (though some recovering from injury) and new additions strengthening positions where the team lacked depth.
There's no reason to think FC Dallas won't be in the trophy hunt again, and perhaps will end the year holding the MLS Cup for the first time in club history.
---
How did FC Dallas perform in 2016?
---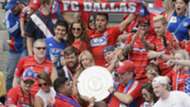 2016 finish: First in Western Conference (17-8-9), eliminated in conference semifinals
FC Dallas won the Supporters' Shield for best regular season record but couldn't overcome an injury to playmaker Mauro Diaz in the penultimate match of the regular season to get past the Sounders in their first playoff series.
---
FC Dallas' key offseason losses
---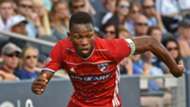 FC Dallas did what it could to keep its strong core together. The offseason did bring about the official departure of Fabian Castillo, who left the team in a controversial midseason loan to Trabzonspor and was sold to the Turkish side this winter.
Zach Loyd, who missed much of last season with concussion issues, was taken in the expansion draft by Atlanta United, while Aubrey David and Carlos Lizarazo returned to the clubs from which they were loaned.
---
FC Dallas' key offseason additions
---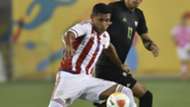 FC Dallas filled the positions of need it felt it had remaining, again using its deep ties in South America to bolster its ranks. Forward Cristian Colman joins from Paraguayan side Nacional, while right back Hernan Grana will have his second stint in MLS after leaving the Columbus Crew because of homesickness. Both the club and player believe the Argentine will feel at home in Dallas' locker room. Anibal Chala, an Ecuador U-20 player, will give Pareja a speedy option at left back.
The team also moved to fill the void left in the middle until Mauro Diaz returns from injury, bringing in MLS veteran Javier Morales and looked to replace Castillo on the left side with the addition of former Belgium international Roland Lamah. And, as has become tradition, the club signed several players to homegrown deals, with Reggie Cannon and Jesus Ferreira potentially seeing minutes this season.
---
How will the FC Dallas starting lineup look in 2017?
---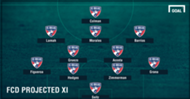 This essentially is what FC Dallas did last year as well, with Morales stepping in until Diaz recovers from injury (he's expected back in June or July), Grana taking the right back spot and Lamah coming in on the left. Don't be surprised, though, if forward Maximiliano Urruti isn't banished to the bench and starts up top with Colman in some matches while FCD operates without a No. 10.
Grana could get a stiff challenge from teenage right back Cannon, while both Atiba Harris and Ryan Hollingshead — once he returns to the field from injuries suffered while rendering aid to a stranded motorist — give Pareja versatile depth options that will be needed as the team contests four trophies.
While Victor Ulloa is the odd man out of the defensive midfielder rotation in the strongest XI, the coaches have plenty of confidence in the Texas native, and he too will see plenty of minutes this season.
---
Full FC Dallas roster entering the 2017 season
---
Goalkeepers: Chris Seitz, Jesse Gonzalez
Defenders: Reggie Cannon, Anibal Chala, Maynor Figueroa, Hernan Grana, Aaron Guillen, Atiba Harris, Matt Hedges, Walker Zimmerman
Midfielders: Kellyn Acosta, Michael Barrios, Carlos Cermeno, Mauro Diaz, Carlos Gruezo, Ryan Hollingshead, Roland Lamah, Javier Morales, Paxton Pomykal, Victor Ulloa
Forwards: Tesho Akindele, Cristian Colman, Coy Craft, Jesus Ferreira, Bryan Reynolds, Maximiliano Urruti
---
FC Dallas' national TV coverage schedule
---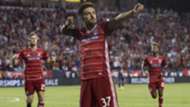 LA Galaxy vs. FC Dallas - Saturday, March 4, at 4 p.m.ET  on Univision
San Jose vs. FC Dallas - Friday, April 14, at 11 p.m. ET on UniMas
FC Dallas vs. New York City FC - Sunday, May 14,at 8 p.m. ET on FS1
FC Dallas vs. Houston Dynamo - Sunday, May 28, at 8 p.m. ET on FS1
Vancouver Whitecaps vs. FC Dallas - Saturday, June 17, at 10 p.m ET. on TSN
Houston Dynamo vs. FC Dallas - Friday, June 23,at 9 p.m. ET on UniMas
FC Dallas vs. Toronto FC - Saturday, July 1, at 7 p.m.ET on TSN
FC Dallas vs. Vancouver Whitecaps - Saturday, July 29, at 7 p.m. ET on TSN
FC Dallas vs. Houston Dynamo- Wednesday, Aug. 23, at 9 p.m. ET on UniMas
FC Dallas vs. New York Red Bulls- Saturday, Sept. 2, at 9 p.m. ET UniMas
Orlando City vs. FC Dallas- Saturday, Sept. 30, at 4 p.m. ET on Univision