Premier League
'Fatigue is an excuse' – Son raring to go with Spurs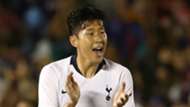 Tottenham striker Heung-min Son says that a hectic schedule will not stop him from being a smash hit with the club this season.
The attacker, who netted 18 times last term for Mauricio Pochettino's side, has just joined up with his club-mates following an intense summer of international football, in which he played with South Korea at the World Cup then helped them to win a gold medal at the Asian Games.
In winning that prize, he also ensured he would be exempt from military service.
However, it came at a cost as he played eight matches in 26 days, prompting fears that his packed diary could affect his form with Spurs.
For Son, though, it is not an issue.
"I think this summer has been like any other summer, except that I've had to travel a little more," he said.
"I always tend to play a lot [in summers] and I am not the only one playing many minutes. Fatigue is an excuse.
"When I am playing for my country, there is not a single match that I can take lightly. I am a professional athlete. Especially with the big crowd that we had [against Chile], there's absolutely no way I could even think about taking it easy.
"I may play poorly at times, but I'll always try to give my best effort."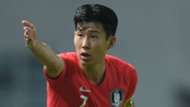 Tottenham have made a strong start to the Premier League season largely without the 26-year-old, who has been restricted to a 10-minute cameo against Newcastle on the opening day of the season. They won their opening three matches of the campaign before suffering a surprising reverse against Watford before the international break.
They will attempt to bounce back from that disappointment when they host Liverpool at Wembley this weekend, with Son available for the first time.
He may, however, be reduced to a role on the bench as Lucas Moura was named the Premier League's Player of the Month for August.
Meanwhile, there are some doubts over the participation of goalkeeper and captain Hugo Lloris, who was fined £50,000 and banned from driving for 20 months after he was found guilty of driving under the influence of alcohol on Wednesday.