Singapore
FAS should start prioritising local coaches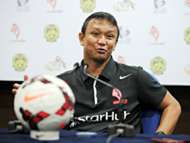 The hottest piece of news in Singapore's footballing fraternity recently was the appointment of local legend Fandi Ahmad to the national team's hotseat as interim head coach.  Football Association of Singapore (FAS) had been under pressure by fans to announce a name following the departure of V. Sundramoorthy especially at time when sentiments for the national team have been underwhelming.
Fandi's appointment can be seen as a panic decision made by the FAS while his interim tag will do no justice in removing suspicions that he is only a stop-gap solution, as FAS continues its search for a new manager. All of these points how FAS time and time again lack a clear plan in how to take Singapore football forward with short-sightedness being their best quality at the moment.
Significantly, the only positive one can see in this that local coaches are being given a chance although an interim basis means that they aren't fully trusted. The problem of local is good but foreign better still lingers in the mindset of those who run the game. Fandi will be tasked with leading the Lions into the AFF Championship and it is safe to say that his future with the national team will be largely on how the team fares in the tournament.
The former FC Gronigen player's coaching career pales in comparison to the one he had as a player but football then again is an unpredictable sport. But in the broader context, no matter the outcome of the team's performance in the tournament, Fandi should still be allowed to stay on as coach and be given a permanent contract. Should Fandi leave or is dismissed, another local coach should take his place.
Instead of shelling out huge amounts of money on foreign coaches, local coaches are less risky. More importantly, they understand the constraints of Singapore football and take lesser time to adapt compared to a foreigner.  Some of these constraints include dietary requirements; religious sensitivities; the state of youth academies and playing surfaces; the shortage of qualified coaches; the lack of Chinese players; the different languages spoken on a training field; the sport versus study dilemma; national service and lingering apathy towards the Singapore Premier League.
The unavoidable suggestion that local coaches must prove themselves first points to the inherent inferiority complex that continues to hinder the national game.  FAS need to eliminate this prejudice and establish trust in local coaches if the fortunes of the national teams are to improve. Yes Sundram's tenure can be seen as not the best but so was Bernd Stange's time in charge of the national team.  One can only hope that Fandi will perform a miracle in the AFF Championship and hopefully lay the groundwork for local coaches. For this to happen he will need to summon all of his coaching knowledge and galvanise the Lions to at least a decent outing. Should he succeed, it could mean opening up a new chapter for local coaches. Let's just hope FAS' short-sightedness would be have been cured by then.