Columbus Crew
Facing a season of change, Crew try to maintain consistency to clear championship hurdle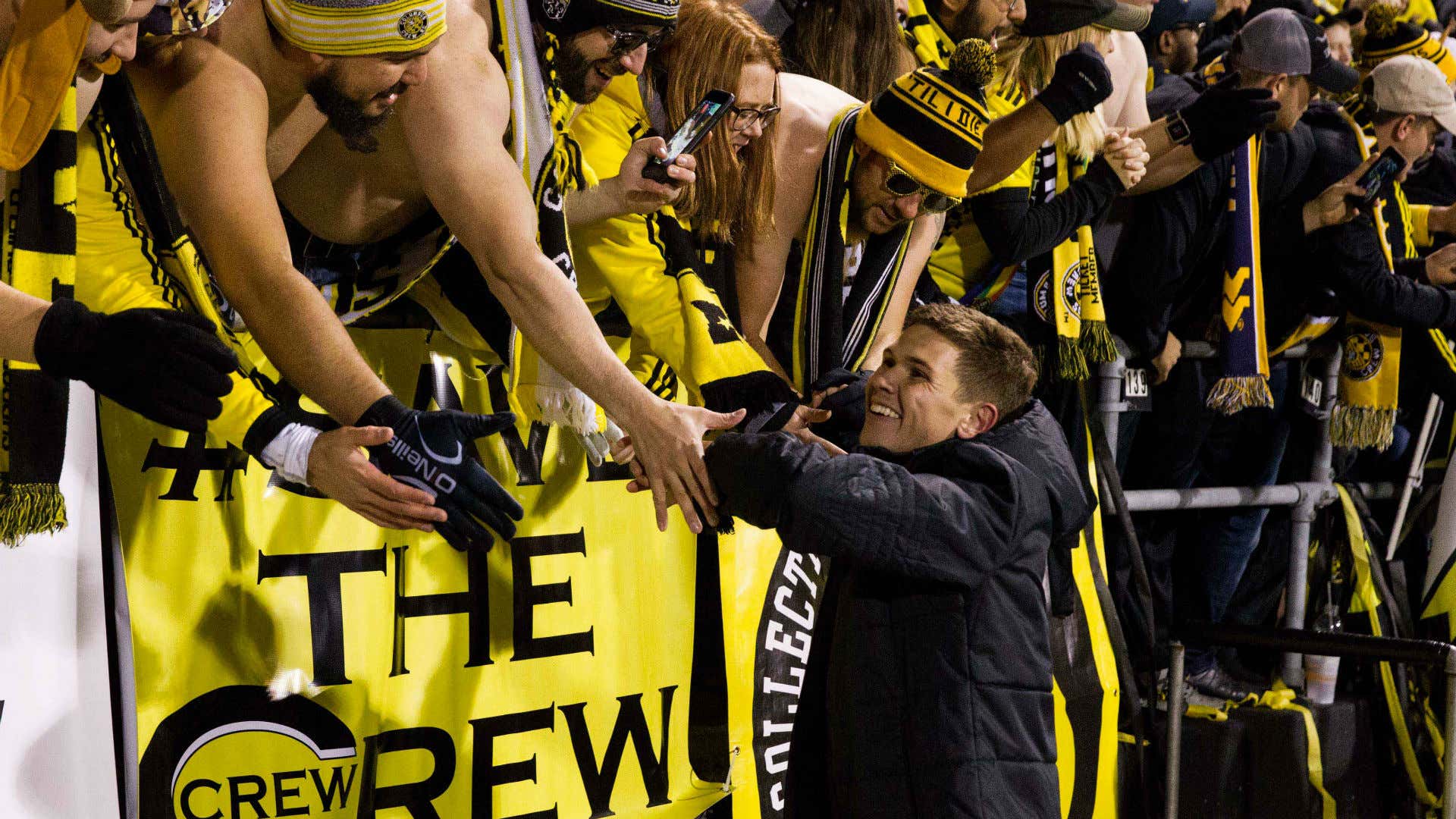 Change is the nature of professional sports. Every season teams bring in new players and shuffle out others. Some change coaches and executives. It can be fine tuning for success, or a drastic overhaul for failure. But it's something that always happens.
What isn't necessarily common is a drastic overhaul after success.
Yet that has happened to the Columbus Crew. The MLS side came within a game of the MLS Cup last season, losing to the eventual winners Toronto FC 1-0 in the Eastern Conference final. It's a side that maybe needed one or two more tweaks to get over the top.
Instead, the Crew are dealing with big changes, both on and off the field, as they have to replace production for their top two scorers all while dealing with the specter of a possible relocation to Austin, Texas.
Ola Kamara, who led the team with 18 goals, is gone, heading to the LA Galaxy in a trade after he asked to leave. Replacing a solid goal-scorer is difficult enough, though the Crew have done it before with the man he replaced, Kei Kamara.
But Columbus ultimately dealt away its second leading scorer, Justin Meram, to Orlando City after he wished for a change as well. In two moves the Crew lost 31 of the 53 goals they had scored in 2017. Replacing that production is not an enviable task for any team, but especially one trying to build on a year that saw a run to the Eastern Conference final.
"Obviously in losing Justin and Ola, we knew there was going to be pretty big void to fill," Berhalter told Goal. "They both had very good production last year. And we knew that was going to be an issue in trying to get the goal production with their replacements."
It's a situation the team was not entirely unprepared for, as Berhalter credits the scouting department for tirelessly working to uncover potential options should the need for them arise.
And some of the void will likely be filled by a player who arrived last August — Pedro Santos. The former Braga midfielder signed as a designated player and added two assists in nine games. An actual preseason with his teammates and the coaching staff should help him provide a greater boost to the attack.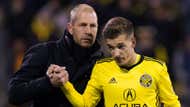 Another of those replacements is someone quite familiar to fans of the U.S. national team — Gyasi Zardes, acquired in the deal for Kamara.
Zardes is someone who has both played a wide attacking position, a la Meram, and the central striker role like Kamara. But in Berhalter's mind there's no question of what he expects Zardes's primary position to be.
"In Gyasi we see that as a like-for-like with Ola in terms of he'll play the No. 9 position and we see him contributing to the team in a similar way, albeit they have different skill-sets," Berhalter said.
The Crew require players to fit their system of play but it isn't completely rigid, it's about blending it to each player's natural gifts. So captain Wil Trapp sees opportunity in the guys that will step in.
"When it comes to speaking about the players we lost, of course Justin and Ola were both key contributors and wonderful teammates," Trapp told Goal. "But it's something that you lose one part of Ola's movement and gain another part in Gyasi's athleticism. Or you lose one part of Justin's unpredictability and you gain something in Pedro Santos's passing ability.
"So for us I think we look at it as just an adaptation and evolving into a team that may do things differently but it shouldn't make us less successful."
That adaptation and evolution involves a lot of work at integrating those new pieces into the fold — a process that is similar for each of the new players but different at the margins depending on one's background. While a veteran like Ricardo Clark is more about learning the team's system, the focus for youngsters like Eduardo Sosa and Milton Valenzuela is creating a mindset for them to succeed in Columbus.
"With the younger guys, you're shaping them more instead of trying to alter something to their games," Berhalter said. "So with Eduardo and Valenzuela we're shaping them into the players that can be productive in our system."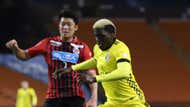 That's something Zardes has seen first hand as he's been working with the coaching staff on what his responsibilities will be in Columbus, as well as how his new teammates like to play.
"It's been a great experience," Zardes told Goal. "This coaching staff has really been teaching me a lot. I've been learning different tactics defensively and offensively.
"I'm still trying to understand which players like the ball at their feet and which players like the ball in space, but other than that, it's a great group of guys.
"They're constantly communicating with me on the field and off the field and that's really helping me a lot."
That communication and feeling of unity is something that Trapp, as team captain, takes extra responsibility for.
"How is the team gelling together? What is the chemistry like?" Trapp said. "That's my role and I think a year on from last year I've just been more comfortable and confident in that role."
For that, Trapp focuses on his own actions. He emphasizes the importance of consistency in how he deals with others and how he goes about his day-to-day routine.
"From the first day I meet a new player to every day you see them in the locker room, it's about being consistent with my actions," Trapp said. "How you talk to guys, being a presence that can be approachable, being a presence that can also hold guys accountable — those things are for me very important.
"And also leading by example. I have to epitomize and uphold the team I want us to be."
And the roadblocks toward remaining that contender from last season aren't just in the changes to personnel. Off the field, the Crew have to deal with cloud of the team's potential relocation to Austin.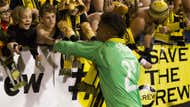 The news hit in October 2017, right on the eve of the MLS postseason. But despite the potential for things on the field to turn negative, the Crew instead went on an inspired playoff run.
Not even guaranteed a postseason home date, they got two — first by upsetting expansion darlings Atlanta United away on penalties, then by delivering a masterful home performance against NYCFC in the first leg of the Eastern Conference semifinal.
The last home date resulted in a scoreless draw against Toronto, a result that still disappoints Berhalter. However, he spoke positively of how the team handled the tumultuous situation.
"I think last year the team was just focused," Berhalter said. "Obviously, the news was disruptive on the outside. But on the inside we were able to focus and really go after what we wanted and that was to be successful."
Berhalter knows relocation isn't a situation that is going away. While the team has been away for its preseason, the questions and the mood around the city and the fans will be there when the regular season begins. However, he isn't worried about fan support, crediting the Crew faithful for sticking by the players through the difficult announcement.
And once more, he's preaching to the players they need to focus on the one thing they can control — what happens on the field.
"There's been very little talk about relocation," Berhalter said. "The way we see it is it's not something that we can control. We can only control the product on the field and putting an entertaining effort out for the fans."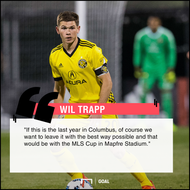 It's a sentiment echoed by the Columbus-born Trapp when asked how to block out the potential distractions caused by the relocation furor.
"I think the best way to do so is just focusing on your craft," he said. "Go to training every day, try to get better. Try to become a better teammate to those around you and try to raise your level."
With that mentality, the Crew aim to provide their fans with not only another entertaining season, but ultimately an even more successful one than in 2017 despite the changes.
For Berhalter, the recipe for overcoming last year's disappointment and climbing that final hurdle is the same for getting through the distraction of relocation — focus on the season game by game as it builds toward "something special in the end."
And should this be the last year for the Crew in Columbus, Trapp hopes to send the team out with a bang.
"Every year you want to win," Trapp said. "We were close a year ago. But if this is the last year in Columbus, of course we want to leave it with the best way possible and that would be with the MLS Cup in Mapfre Stadium."