Jacob Mahler
Eyes on adidas Copa: Fandi Ahmad and Jacob Mahler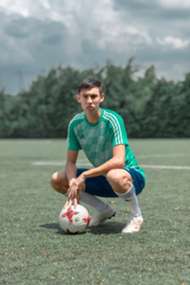 His rise to the top has been nothing short of meteoric. In such a short span of time, Jacob Mahler has established himself as an integral member of the Young Lions squad and earned a place in Fandi Ahmad's national team.
Indeed, when one considers the fact that Jacob Mahler is only 18, it makes his achievements all the more special for he represents the future of Singapore football.
For Singapore's future football star, getting the right football boots is essential, and Jacob looks no further than boots produced by adidas football.
It's no secret that adidas football's Copa series has been a huge hit since it was first produced in 1982. Its latest design, the Copa 19.1, has Jacob in awe due to its unique features. It has become his favourite pair of boots and it's not difficult to see why.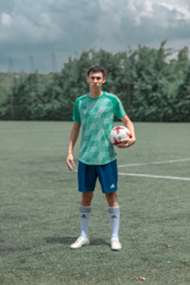 The Copa 19.1's K-leather will give any footballer comfort as the material provides softness while ensuring a good first touch. Moreover, the design incorporates a structured knit textile collar for a comfortable, sock-like fit.
"What I look for in (football) boots is comfort. When you put on any pair of boots, you must feel comfortable and confident," mentioned Jacob.
"With the adidas Copa 19.1, I am able to get that because of the soft leather, which allows me to get good contact with the ball. It actually makes me feel as if I am playing barefoot."
"Even without breaking in the boots, it already feels comfortable and as soft as seasoned ones."
As a central midfielder, passing is a skill that Jacob needs to perfect and with the Copa 19.1 he believes his task will get easier.
For me as a defensive midfielder, it's all about spraying passes and spreading the ball."
"The Copa 19.1 helps me do that because firstly it improves my touch, and then helps me to control the ball better, and finally allows me to improve my range of passing, because of the solid contact I have with the ball."
Sharing Jacob's sentiments is Singapore's favourite footballing son, Fandi Ahmad, a man who still possesses and polishes his 1982 Copa boots.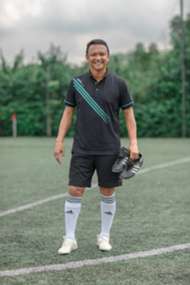 Fandi's first "boots" were hockey shoes, and after almost three decades of playing football, he certainly knows the value of a good pair of boots. Copa has since become a constant companion for the football legend who believes the right pair of boots can complement the skills of a player. 
"I began using the Copa in the early 80s, about the time they launched it for the 1982 World Cup in Spain, the Copa's soft leather fits like a glove allowing the player to connect effortlessly with the ball."
"While other designs may have disappeared, the Copa still remains iconic because it keeps evolving, recognising the developing needs of the players. My first pair of Copa boots would get heavy when it rained, today the Copa is lightweight and provides good contact and agility for the players,"  making it a top favourite.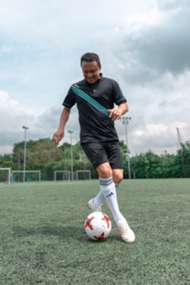 All in all, for Fandi and Jacob, the Copa is the ideal footballing boot. A testament to this is the Copa's durability and enduring appeal in the face of time. There is no doubt that this iconic boot will continue to empower the next generation of footballers, just as how it inspired and influenced past ones.
The Copa 19.1 (SGD 280) is available in-store at adidas Suntec, adidas ION, adidas Causeway Point and on adidas.com.sg .