PSG
EXTRA TIME: Watch Senegalese artist draw Neymar with his boot and Mane with a ball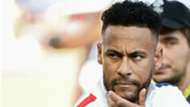 An artist from Senegal, known as Boubou, has gained the attention of Neymar after painting the Brazilian player using a boot.
Neymar posted a Tweet of Boubou painting him, and you can watch it below.
There is another amazing football artwork by this Dakar-based artist who brilliantly dribbles with a football in such a way to paint his countryman Sadio Mane.
Boubou's talent doesn't stop there, he has painted basketball star LeBron James, while bouncing a ball around the canvas.
We also show him using the shape of Africa to paint the late South African president Nelson Mandela. He uses a bicycle to paint Barack Obama and a toilet to paint United States president Donald Trump.
The videos are brought to us thanks to the artist's official Twiter account @boubou_design.
Cada artista usa os pés da sua maneira 👏🏽🎨

Each artist uses his feet in his own way 👏🏽🎨 #neymar #neymarjr #futebol #brasil #artista #pintura #arte#Repost @bouboudesign_ ・・・#art #painting ⚽️ @neymarjr @worldstar pic.twitter.com/iUuK1Y9lvN

— Neymar Jr. Site (@NeymarJrSite) September 13, 2019
#painting @10SadioMane ⚽️ pic.twitter.com/GYvhnjzlJG

— Bou bou design (@boubou_design) May 28, 2019
Painted @KingJames while dribbling 🤯

(via bou_bou_design_/IG) pic.twitter.com/ZjQQJwc7iJ

— Bleacher Report (@BleacherReport) April 15, 2019
April 22, 2019
#painting 🚽🚽🚽#Trump pic.twitter.com/N9moWXWM2B

— Bou bou design (@boubou_design) May 16, 2019
#Painting 🚲 @BarackObama pic.twitter.com/yXsdPzqT75

— Bou bou design (@boubou_design) August 30, 2019
🛑 #XenophobiaInSouthAfrica pic.twitter.com/f7SJzhOeWD

— Bou bou design (@boubou_design) September 4, 2019