Mamelodi Sundowns v Côte d'Or
Watch Mabunda sing with Mamelodi Sundowns fans and the Caf Champions League reaction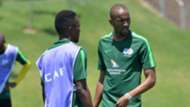 All the talk on social media was about Mamelodi Sundowns' amazing 11-1 victory in the second leg against Cote d'Or in the Caf Champions League at Lucas Moripe Stadium.
There are rival fans complaining the Brazilians shouldn't humiliate their visitors in such a manner. Sundowns were celebrating so much, even their player Tiyani Mabunda joined the chorus by singing with the fans in the stadium.
A supporter on Twitter claims this is a unique achievement for Sundowns, and you can watch the video of Mabunda in the stands below.
There are more videos of the Brazilians celebrating at home, and the fans reminding us just how sensational their team is right now.
Sundowns also want to remind Orlando Pirates suppporters they were beating them 6-0 two years ago, before the pitch was invaded.
Here is how Twitter reacted to Sundowns banter, their impressive victory and progress into the group stage.
⚽️TIYANI MABUNDA⚽️

Show me a player in this country who joins his fellow fans in the stands and sings with them.

There is no other club than Mamelodi Sundowns

👆💛💚💛💚💛💚💛👆

WE ARE MAMELODI SUNDOWNS #Sundowns #DownsLive #CAFCL #2ndStar #WeAreSundowns pic.twitter.com/rLU6Sj8wSs

— 🇿🇦Thabang Mantutle🇱🇸 (@ThabangMantutle) September 27, 2019
Sundowns in #CAFCL vs Sundowns in the PSL pic.twitter.com/do53vDHrKp

— Siviwe (@capoot7) September 27, 2019
Ereng 7-0😆 #CAFCL #Sundowns #downslive Lucas Moripe👆 pic.twitter.com/F3Ich2grGy

— Mamelodi Sundowns Pretoria East Branch (@SundownsPTAEast) September 27, 2019
What Mamelodi Sundowns is doing is not correct. 😂😂😂

— A Dog That Bites (@SkepeMatsebane) September 27, 2019
We Are Mamelodi Sundowns #CAFCL 👆🏼💛 pic.twitter.com/QFKReirVUR

— Mpendulo Mthembu (@mpexo) September 27, 2019
What separates Sundowns from other PSL clubs is consistency, every season. Something that is lacking from other PSL clubs.

— Pan Africanist (@panafricanist90) September 27, 2019
#Sundowns

Respect Coach Pitso you rhulani pic.twitter.com/vK2SV06HLL

— Vusi Mphazima⏺️ (@vusi_sa) September 27, 2019
Sundowns winning 11-1? It's nothing new. I mean let's be honest here. We've seen this kinda movie before #CAFCL pic.twitter.com/91alJdqqFg

— Menziwa KaXhoko (@biyela_bongz) September 27, 2019
#CAFCL #Sundowns
Sundowns and Big Score Margins pic.twitter.com/1qNrKe3ZtH

— SIHLESAMAHLASE (@n_hlase) September 27, 2019
A group picture of Mamelodi Sundowns' goalscorers in the #CAFCL this evening. pic.twitter.com/pIoYshqUMm

— AB Basson (@ABBasson17) September 27, 2019
I can't wait to see Sundowns fans crying on 12 October ✌️✌️✌️shapa khosi shapa❤️❤️ pic.twitter.com/6yZMIfPxuD

— @NATHAN WALE KHOSI✌️✌️❤️ (@NATHANCOM10) September 27, 2019
Sundowns fans trying so hard to trend pic.twitter.com/MHmaeaAfDg

— 29 September 🎂 (@Mtimande_01) September 27, 2019
Wake me up when Sundowns is 3-0 up, I need to cashout🤦🏾‍♂️ pic.twitter.com/2KfrISAVIj

— Diced Pineapple (@ThomasBlazin) September 27, 2019
Sibusiso Vilakazi missed 3 chances and scored 3 goals...

— Sundowns Fanatic 🌟 (@Madumetja_SoLo) September 27, 2019
Sundowns does not have manners. They can't embarrass another team like this.

— Prince of Peace (@PhaladiShuping) September 27, 2019
We would've beaten some team 11 - 0 at Loftus Stadium if they hadn't invaded the pitch... #CAFCL #Sundowns #DownsLive pic.twitter.com/PdBxBRtQOU

— Sundowns Fanatic 🌟 (@Madumetja_SoLo) September 27, 2019
The only team to score 24 goals in psl cup game and the only team to score 16 goals in caf from south Africa, sadc, that's mamelodi sundowns love it or hate it, kby. Downs i love you. pic.twitter.com/jk0efmEyMF

— Danny Denzo (@DannyDenzo3) September 27, 2019