WTF
EXTRA TIME: Watch Germany's Lothar Matthäus praise South Africa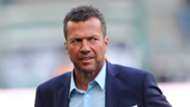 South Africa's famous television and radio sports presenter Robert Marawa caught up with Lothar Matthäus in Munich, Germany.
Matthäus made a name for himself in European club football for Inter Milan and Bayern Munich. He wasn't as successful as a coach, last mentoring the Bulgaria national team in 2010/11.
The former West Germany captain is best known as the player who led his nation to Fifa World Cup glory in Italy 1990.
Here we can watch Marawa randomly talk to Matthäus on his official Twitter account. The German praises South Africa for making him feel welcome during the 2010 Fifa World Cup.
The interesting part is how Matthäus talks about travelling through South Africa and learning about the culture on his road trip.
Germany were fantastic in South Africa 2010, but eventually lost 1-0 to winners Spain in the semi-finals.
Lothar Matthäus, German football Legend who led the then West German team to victory in the 1990 FIFA World Cup tells me he had a great time in South Africa during the 2010 World Cup.... Amazing training facilities that @FCBayern have!!👌🏽@Bundesliga_EN pic.twitter.com/iTPHKudaGg

— robertmarawa (@robertmarawa) April 7, 2019