South Africa
EXTRA TIME: Watch Danny Jordaan congratulate Bafana Bafana and Cosafa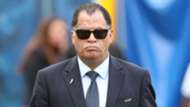 Bafana Bafana beat Libya 2-1 in their final Afcon qualifying fixture away from home on Saturday night.
South African Football Association president Dr Danny Jordaan released the following video where he praised the national team's achievement.
He also paid tribute to the record qualification for Southern African football with Zimbabwe, Angola, Namibia and Madagascar also going through to Egypt 2019.