African All Stars
EXTRA TIME: Watch Club Brugge fans take Percy Tau to heart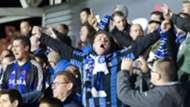 Bafana Bafana international Percy Tau scored on debut for Club Brugge against Sint-Truiden in the Belgian Pro League on Friday.
Club Brugge gave the visitors a 6-0 tennis score, with the South African scoring in the 44th minute.
After being played through on goal, the former Mamelodi Sundowns forward chipped the keeper before creating a unique celebration.
The celebration also became the talk of social media. Many South Africans were overjoyed to see how Tau was welcomed by the Club Brugge supporters.
Both of these moments were recorded and can be viewed thanks to fans and SuperSport TV on Twitter.
There are also many football fans pointing out Brighton must be disappointed with the work permit rules stopping Tau from playing for them in the Premier League.
Percy Tau introduced himself to the Club Brugge fans with a sublime chipped goal on his debut, in a 6-0 win over Sint-Truidense V.V. He then had some fun with the crowd post-match 🇿🇦pic.twitter.com/ieywOtUkqQ

— SuperSport (@SuperSportTV) August 3, 2019
When saw Belgium trending i immidiately thought of Percy Tau the lion of Judah. pic.twitter.com/5227PG8TDI

— mellow (@mellow20302726) August 3, 2019
May Percy Tau have a great, long and lasting career in Europe. He deserves this. 🙏🏾

— MaDlamini (@SpokyJama) August 3, 2019
From a social media perspective, is signing Percy Tau the worst thing #BHAFC has ever done?
Debate...

— MC Merchy (@bhafan) August 3, 2019
Brighton really can't wait for Percy Tau to get his papers ready 😢 imagine seeing your player do wonderful things for other clubs but can't do the same for your own because of flippen papers😒

— Poloko (@15_Midge) August 3, 2019
Percy tau z our messi keep it up.....keep up the good work poi pic.twitter.com/1NC4czgg90

— Lucky (@Lucky31966024) August 3, 2019
Brighton and hove albion is underrating Percy Tau, i don't think he will ever play for them. Next season he will play for a good team with good players like Cristiano Ronaldo, infect i hope he plays with CR7 before he retires. pic.twitter.com/HIJKhJaAhY

— mellow (@mellow20302726) August 3, 2019
Our nation's pride 🇿🇦🇿🇦 Percy Tau
First game✔️
First goal ✔️ pic.twitter.com/hmNEGMLz0M

— David Gabaocoe (@David_Gabaocoe) August 3, 2019
Brighton loanee Percy Tau scores on his debut for Club Brugge (4-0 vs STVV). #bhafc #bafanabafana pic.twitter.com/TxqwZOtrUN

— Kristof Terreur 📰🎥 (@HLNinEngeland) August 2, 2019