South Africa
EXTRA TIME: No supporters to greet Bafana at airport?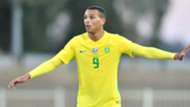 South African journalist Chad Klate took this photograph at the OR Tambo Airport in Johannesburg.
It was taken just before the Bafana Bafana squad was due to touch down back home, and there's notably no fans to welcome the team. 
Here's how a few players, the media and fans reacted to the no show. After drawing 0-0 with Seychelles away from home, only the most loyal supporters would go greet the team at the airport. We can't find any on this Tweet.
Bafana are scheduled to land in a few minutes and not one supporter is in sight here at @ortambo_int  pic.twitter.com/mrftu4yzRE

— Chad Klate (@CKlatey) October 17, 2018
Can you tell I'm grumpy but happy, one more flight and I'm back in Cape Town.
Very honored and privileged to have been apart of the nations representatives, till next time  pic.twitter.com/qOxjHqTVsS

— Thabo Nodada (@ThaboNodada26) October 17, 2018
On Bafana's rest day they posted pics on the beach. They didn't beat Seychelles in the return leg & now we're using the pics against them! Rest is an important part of competition

Are we being fair?

Should they not have posted?

Voicenote #FreshBreakfast on 081 577 3333 pic.twitter.com/GBYs5a9S8v

— Mpho Letsholonyane (@M_Letsholonyane) October 17, 2018
Eish , I didn't see but check the replies  we can't take these guys seriously

— McDaddy (@rorybloy) October 17, 2018
Who does the PR or manages the logistics at SAFA? They should be blamed

— Lennox Bacela (@lennoxbacela) October 17, 2018
Should we also welcome him back when he returns from holiday?  pic.twitter.com/95WrJnszsy

— Nqobizwe Shipanga (@Enn_que) October 17, 2018
Supporters should have went there with Sjamboks

— #DNAofChampions (@ShabanguBaldwin) October 17, 2018
October 17, 2018
Damn, this is cold. But not entirely unexpected.

Our sole Afcon title will continue to haunt Bafana.

— P. K. Dionysus (@PKDionysus1) October 17, 2018
Why would there be? 

— Mr Watson (@cheldon10) October 17, 2018