WTF
EXTRA TIME: Cape Town fan banter after Tinkler leaves City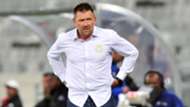 Football fans in Cape Town started their banter early between Ajax and City. 
Cape Town City explained how they lost the services of their head coach, Eric Tinkler and then the supporters discussed the subject of loyalty in local soccer.
It was a particularly interesting subject when you consider the history in Cape Town. We are not taking any sides on the debate, so we leave you with the Tweets.
Benni's shown that money means more than respect and loyalty! I pray he gets the @CapeTownCityFC post #Sellout #BignamesBigEgos #WeAreAjaxCT https://t.co/gn9esxRHqh

— Lesley de Vos (@lezdevos) June 8, 2017
Money cannot buy #Loyalty Clearly ET didnt see the so-called ambition of @CapeTownCityFC @ajaxcapetown #WeAreAjaxCT @MarlyMokes22 #ahoo

— Lesley de Vos (@lezdevos) June 8, 2017
Comitis be like: " These hoes ain't loyal" #thembluenoses @lezdevos @MarlyMokes22

— Caleb Mohammed (@Capes_Meister) June 8, 2017
"Hi, my name is John. I want to speak to you all about loyalty. Something I actually know nothing about." https://t.co/jdKxEh4OVF

— Caleb Mohammed (@Capes_Meister) June 8, 2017
Money talks...

— Cape Town City Fans (@CTCFCfans) June 8, 2017
Coaches n players come n go!!!but @CapeTownCityFC will remain. The level of proffessionalism in this team is 2nd to none

— Saki Dangote (@SakiSoulM) June 8, 2017
Us? LOL. Remember, your current boss, was our boss when we were deemed a 'selling' club. You're welcome pic.twitter.com/qoGmswBwKQ

— Caleb Mohammed (@Capes_Meister) June 7, 2017
June 8, 2017
Doubt Tinkler would throw it all away for SSU. he knows there is a legacy to be built.

— Blue and Gold Army (@BandGarmyCTCFC) June 7, 2017
The saying goes, "If you want loyalty, get a dog." https://t.co/twPT31AKHw

— Chad Klate (@CKlatey) June 8, 2017
#Throwback when Eric Tinkler led CTCFC to be crowned @TelkomZA Knockout Champions after beating SSU. Thanks to @aubreyngoma11's goal pic.twitter.com/XyHqCLqYzv

— Sports movement (@sports_mvt) June 8, 2017
CONFIRMED: Eric Tinkler leaves Cape Town City.... pic.twitter.com/fI1WWlxVkX

— Tracksuit (@ThabisoMosia) June 8, 2017