Mamelodi Sundowns
EXTRA TIME: Brockie family shocked after mosque attacks in New Zealand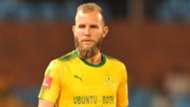 An Australian man reportedly in his 20s was arrested and charged with murder for the horrifying incident in New Zealand.
The shooting was streamed live on Facebook from the Al Noor Mosque by the accused who was known to have racist anti-immigrant views.
About 20 others were reported to have been injured in the shooting.
New Zealand striker Jeremy Brockie was shocked to hear about the incident in South Africa this morning.
Brockie plays for SA PSL club Mamelodi Sundowns and he was joined by his wife Jessica Brockie in sending their support back to Christchurch.
Bafana Bafana midfielder Dean Furman, as well as SuperSport United striker James Keene, shared their prayers for the affected families in New Zealand.
Devastating scenes coming out of New Zealand. My thoughts and prayers go out to all those affected 🙏🏻

— Dean Furman (@de4no22) March 15, 2019
 

Just woke to the terrible news back home!! Sending all my love and support to #christchurch 🇳🇿😢💔

— Jeremy Brockie (@JRBrockie) March 15, 2019
 

Cannot believe the news coming out of New Zealand today. This is beyond heartbreaking & there is no place for this kind of horror in the world. 💔 #christchurch https://t.co/EjNYjEBqKz

— Jessica Brockie (@jessicabrockie) March 15, 2019
 

Shocking and tragic News. My heart goes out to the Family's and the community affected by this cowardly act in Christchurch. 🙏 #Christchurch
— James keene (@JamesKeene28) March 15, 2019