Mamelodi Sundowns
EXTRA TIME: Blue Bulls kit tribute to Mamelodi Sundowns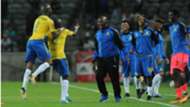 Well, both the Blue Bulls rugby team and Mamelodi Sundowns are proud teams in Tshwane and this kit celebrates their unity in a unique way.
This is what the CEO of the Bulls, Barend van Graan had to say about it. 
"The Vodacom Bulls have always believed in a bigger dream of uniting Tshwane, one that ensures that we fight to uphold the pride of our city. Both teams represent this beautiful city and we believe that sharing our colours is a great way of expressing that. This alignment no doubt also shows an amazing unity, not only between the brands but also the sporting codes. The bold move also shows the Vodacom Bulls' willingness to embrace and unite, to be leaders and torch bearers in the process of continually unifying our people," said Van Graan to the rugby team's official site.
Unite the City #BullsFamily

Vodacom Bulls and @Masandawana standing together! #20180 pic.twitter.com/8xS1uISUw4

— Official Blue Bulls (@BlueBullsRugby) January 13, 2018
Paying tribute to the city's brothers. Introducing the Vodacom Bulls Away Kit Away Kit. #BullsFamily #201810 @Masandawana @PUMASouthAfrica @VodacomRugga pic.twitter.com/5N5z7cw6kX

— Official Blue Bulls (@BlueBullsRugby) January 13, 2018