Benni McCarthy
EXTRA TIME: Benni McCarthy to visit Manchester City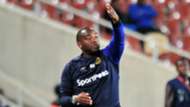 Manchester City take on Basel in the second leg of their last 16 encounter in England on Wednesday night.
Cape Town City coach Benni McCarthy will be there learning from Pep Guardiola's methodology in the UCL. Before you get any fancy ideas on Benni learning directly from Pep instead of his idol Jose Mourinho, you need to realise that this is part of his coaching course.
"Our pro license group are doing a Champions League analysis and a club visit'" McCarthy is reported in the Sowetan to have told the media.
"We have to watch and analyse Man City's Champions League game on Wednesday. 
"Everyone on the course will be there and are put into groups and some 'manage' Man City and the others 'Basle' and you have to put yourself in the shoes of the coaches out in the dugout.
"The next day we do the club visit to look at the set up at their training facilities and their academy."
City head coach @bennimccarthy17 will be visiting @ManCity this week where he will be completing his @UEFA Pro license. We wish coach Benni the best as he obtains the highest level possible for the young coach.#iamCityFC pic.twitter.com/nOTXbrqOlC

— Cape Town City FC (@CapeTownCityFC) March 5, 2018
All the best coach

— Desiree Ellis (@descaptain) March 5, 2018
Go well coach and all the best with your final tests for your coaching license...

— Sipho Mahokoto (@SiphoMahokoto) March 5, 2018
Thats wat we call a champ

— Haniel Silubane (@HanielSilubane2) March 6, 2018
Go well coach

— Sandiso Goso (@Bunzito2) March 6, 2018
Well done @bennimccarthy17 . pic.twitter.com/mk8UtHE2jA

— Sphesihle (@CpheDexter) March 5, 2018
All the best

— Bradley Andrews (@BradleyAndrew10) March 5, 2018