South Africa
EXTRA TIME: Bafana prepare for Seychelles in Afcon qualifier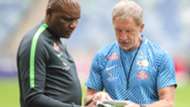 First Bafana Bafana hosts Seychelles in Soweto, South Africa at the FNB Stadium on Saturday. 
Then on Tuesday the play in Seychelles. South Africa need to win both games to have a good chance of qualifying for the 2019 Africa Cup of Nations.
There's also Nigeria and Libya in the qualifying group, so Bafana will also need good results against these two nations in their remaining games.
In these preparation Tweets, you can find a news insert from SuperSport TV with the latest developments.
Then there's a video of South Africa coach Stuart Baxter talking about the squad. This is followed by a number of training photos of Bafana Bafana preparing for the game.
Bafana Bafana gear up for their back-to-back matches against the Seychelles in the #Afcon2019Q 🇿🇦 pic.twitter.com/jB5cj96MdC

— SuperSport (@SuperSportTV) October 9, 2018
Stuart Baxter delivers a Bafana Bafana squad update. pic.twitter.com/daS7AItmuu

— Luke Feltham (@FelthamLuke) October 8, 2018
Bafana Bafana having the second training at Steyn City School on Tuesday, 9 October pic.twitter.com/17fufTmn9x

— Bafana Bafana (@BafanaBafana) October 9, 2018
4 days to go, make your day and book your tickets for the for 2019 AFCON Qualifiers. #ComeShowYourLove and support Bafana Bafana on 13 October 2018.
Gates open at 11:00
Kick-off is at 15:00 #Get2TheGame pic.twitter.com/PxP22kNTZ8

— StadiumManagementSA (@OfficialSMSA) October 9, 2018
PREPARATION TIME @BafanaBafana training at Steyn City School in Fourways. #Bafana play Seychelles 🇸🇨 at FNB Stadium on Saturday (15:00). #FARPost pic.twitter.com/ijgrj1a2Jc

— FARPost (@FarPostSA) October 9, 2018
Bafana Bafana continue training out of the uber upper class Steyn City School today. pic.twitter.com/lzUn9ZKLdh

— Luke Feltham (@FelthamLuke) October 9, 2018
BAFANA BAFANA GETTING SMAAAAAAASHEDDDDDDDDDDD! https://t.co/o84v1rp2Bo

— CapeTown_Bru (@Apetown_Bru) October 9, 2018
Bafana Bafana at their first training session in preparation for the 2019 AFCON qualifier clash against Seychelles. The first leg match will take place at FNB Stadium on Saturday. Kick-off is at 3pm pic.twitter.com/XNRNnHsx7v

— Bafana Bafana (@BafanaBafana) October 8, 2018
#BafanaBafana Bafana Bafana coach Stuart Baxter says he is looking more at that they must win than what they can lose when they take on Seychelles on Saturday at the FNB stadium. CM pic.twitter.com/K6NJXav5mM

— CapricornFM News (@CapricornFMNews) October 9, 2018
Bafana Bafana coach Stuart Baxter briefing media on team arrival on Monday, 8 October 2018 pic.twitter.com/xASHTe3pQU

— Bafana Bafana (@BafanaBafana) October 8, 2018