Ajax Cape Town
EXTRA TIME: Ajax Cape Town fans unhappy with NFD position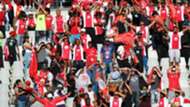 That is the concern for die-hard Ajax Cape Town fans who are witnessing their team slide down the National First Division table.
They are now in seventh position on 14 points after nine games. Though, it must be pointed out that there is no reason to panic because top of the table Stellenbosch is on 17 points and the Urban Warriors can make up the lead with a single game.
Though, it will hurt Ajax that two Cape Town clubs are at the top of the table. They can only examine what's going wrong recently, and that is their 1-0 defeat to Uthongathi.
Then they have to make things right when they host Real Kings on Saturday. You can get a piece of the fans feelings about their form on Twitter below.
We can't wait for too long like we did with Stanley Menzo last season before fixing the things that aren't working well at the club. To management, Muhsin and the players we demand good results and we are unhappy with our team performance so far. #WarriorUP #WeAreAjaxCT pic.twitter.com/JCp9mKogNf

— Anathi George Mgema (@anathiGM) October 30, 2018
the only thing that's fake is Ertugral, he's only here for a holiday & the good life in Camps Bay 

— 16V (@Doctor_16VK) October 30, 2018
Our match against Ajax Cape Town in pictures. #Match Preview. pic.twitter.com/KMWZYsZha2

— Uthongathi FC (@UthongathiFC) October 30, 2018
Our match against Ajax Cape Town in pictures. #Match Preview. pic.twitter.com/zQ3ehgUWRW

— Uthongathi FC (@UthongathiFC) October 30, 2018
Prince Nxumalo SCORED 13 league goals in 2015/16 for Ajax Cape Town, but is now in the NFD where he has ONE goal in eight appearances. Seems a SHAME because he is now 28 and probably DESERVES at least one BIG move.

— David Minchella (@David_Minchella) October 30, 2018
His like the guy always ready with his AK47 trying to take shots at Ajax Cape Town.

— Marly Mokes (@MarlyMokes22) October 30, 2018
NFD Weekend RESULTS

- TS Galaxy 1 - 0 Maccabi FC
- Cape Umoya United 0 - 1 Royal Eagles
- Pretoria University FC 2 - 0 Ubuntu Cape Town
- Witbank Spurs 0 - 0 TS Sporting
- Uthongathi FC 1 - 0 Ajax Cape Town
-... https://t.co/tsurPoMVqU

— ThikhaSoccer (@ThikhaSoccer) October 29, 2018
Please Rob can you show us the NFD log In am only interested in seeing where Ajax Cape Town are sitting at the moment?

— Banda A Simelane (@SimelaneBA) October 27, 2018