Monaco v Juventus
Even Monaco ace Mbappe cannot break down the brick wall that is Juventus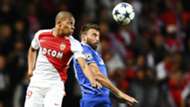 ---

COMMENT
---
Gianluigi Buffon spoke before Juventus' Champions League semi-final first-leg encounter against Monaco on Wednesday about the honour it was going to be to play against "a future Messi, Ronaldo or Neymar".
The boy he was speaking about was, of course, Kylian Mbappe, whose sensational form for the Ligue 1 leaders over the first months of 2017 has seen him given a price tag of upwards of €100 million.
The 18-year-old has been a magician for Monaco since arriving in the first team, shattering records at apparently every turn, but this great Juve side proved a bridge too far for a young man who had netted five times in his previous four knockout games in Europe's elite competition.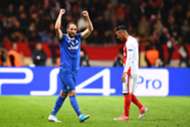 Juventus asphyxiated what has previous appeared to be an unstoppable Monaco attack and have now gone over 10 hours of Champions League football (621 minutes) without conceding a goal in the competition.
Mbappe, though, was the player who most regularly stretched the Italians, pulling their defence to breaking point on a handful of occasions.
He was most dangerous in the first period, when he had a difficult headed chance saved comfortably by Buffon, while the Italian showed his experience to repel a deft first-time finish from the young France international shortly afterwards.
Thereafter, Mbappe rarely proved to be a direct threat to the Juve goal, yet he showed his capabilities in the construction of moves. More than once he would tear away down the flank, showing an impressive ability to play off either foot. His crosses just lacked a taker as Juventus' packed defence did its job.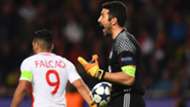 As veteran Juve centre-half Andrea Barzagli told Mediaset Premium afterwards, "We studied Mbappe, as he is a devastating player. I've met some over the years, but at his age with that technique, physical strength pace, and above all his movements, I've not seen someone like him. I think Mbappé is going to become extraordinary."
Monaco's other stars struggled, though. Radamel Falcao toiled to get any change out of one of the best central defensive units that the competition has seen, and when he did get an opportunity early in the second period he was unable to profit.
Alves hits personal assist mark
It was in midfield, though, that home boss Leonardo Jardim will be most disappointed with his side's performance. Bernardo Silva's artistry was largely quelled, while Thomas Lemar showed little of the quality that has made him such a compelling force in France. Tiemoue Bakayoko, bedecked in a mask, had an evening to forget, coughing up possession as Juventus grabbed a crucial second.
Ahead of next week's second leg in Turin, it will take a staggering turnaround if Monaco are to reach the final. Mbappe will have to succeed where Messi and Ronaldo failed. He will have to prove that he is not simply a superstar of the future, but the present, if the tie is to be salvaged.