Transfers
Europe's Golden Boy Renato Sanches will be resurrected at Swansea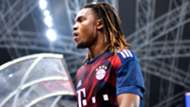 ---
COMMENT
---
Swansea fans who want to catch a glimpse of their summer superstar signing would do well to book flights to Portugal for Tuesday next week. Wales's under-21 team go up against Portugal in their first qualification match for the 2019 Uefa European Under-21 Championship. Lining up for the home side at GD Chaves's 12,000 capacity stadium just 10km south of the Spanish border will be Renato Sanches.
Swansea 11/8 to beat Newcastle
He's Europe's Golden Boy; the best young player at Euro 2016 but his rocket of a career is spluttering. While Cristiano Ronaldo and Bernardo Silva and the rest of Portugal's superstars attempt to negotiate two straightforward World Cup 2018 qualifiers, Renato will instead be working well away from the limelight. The next time he pulls on a shirt and laces boots it won't be for Bayern Munich, it'll be for Swansea City in South Wales.
Bayern were reckoned to have pulled off a massive transfer coup last summer when they snapped up Renato for an initial €35m, potentially rising to €80m, for the latest jewel in the Benfica production line. After a standout Euros, in which he starred against Croatia and Portugal in the knockouts, that €35m looked like a bargain with Manchester United having been their chief rivals in the market.
Renato was, and still is, possessed of the necessary attributes to become a dominant force in the centre of midfield. He is a head-up footballer, always on the lookout to receive the ball and plot the next sequence of passes. When that doesn't work he's got no problem switching the ball between his feet and dribbling past opponents even in congested areas. He's got an eye for a through ball and relishes a tackle for good measure. All the constituent parts were in place for him to arrive at Bayern and hit the ground running.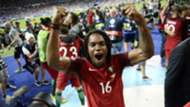 His signing was requested by Carlo Ancelotti and Bayern obliged by providing Renato to their new coach as a welcoming gift. His season began promisingly as Ancelotti took the opportunity to save the legs of his regular midfielders early in the campaign. So Renato beat out Arturo Vidal and Thiago for a starting berth. It wasn't long however before he fell out of favour.
He barely managed 600 minutes in the Bundesliga overall and started only twice in 2017. One of those came three matches from the end of the season against Darmstadt when Bayern already had the league title wrapped up. The other was Bayern's only home defeat of the season against Hoffenheim in March. The Darmstadt game provided Renato with his only full 90 minutes of the Bundesliga season.
It meant that the campaign closed on an unsatisfactory level for Sanches even if Bayern picked up another inevitable Bundesliga shield. His form was poor when he did play and he looked a long way from the player who ripped Portugal's Primeira Liga apart a year earlier with panache.
Fernando Santos, the Portugal manager, dropped him from the senior squad for the Confederations Cup. He would instead be playing among his peers at the Under-21 European Championship. Again it was a bad tournament for him on an individual basis. He assisted Bruno Fernandes with a pass of rare beauty in the opening game against Serbia but he brought no influence against the Spanish, where Portugal were beaten. They went out in the groups.
Nonetheless Renato remained a player in demand. Bayern CEO Karl-Heinz Rummenigge claimed Chelsea were interested. AC Milan were linked as were Manchester United again. A year earlier Jose Mourinho admitted United missed out on Sanches and he, personally, had been keen on the teenager a long time before that. None of that came to pass and instead it's Swansea.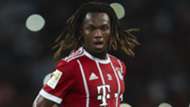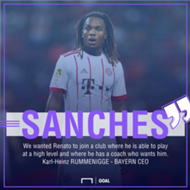 Swansea, who avoided relegation last season by the skin of their teeth. Swansea, who will have sold their best players in Gylfi Sigurdsson and Fernando Lllorente. Swansea, who are expected to do no better than struggle to stay alive in the Premier League. But the move makes sense.
"We wanted Renato Sanches to join a club where he is able to play at a high level and where he has a coach who wants him," said Rummenigge. "Renato has to continuously play for a year, and that's not guaranteed given the quality in our squad."
At Milan or Old Trafford, Renato would be expected to get right back on his level and dominate like an €80m player can. The pressure would be scarcely less intense than it is at Bayern.
What Renato needs are games. He needs to play every week for a coach he can trust and in Paul Clement he'll have just that. The Swansea supremo proved his chops by snagging Sanches on loan from his former club. He worked along Ancelotti for most of his coaching career, including a stint at Bayern for six months before he decamped to Swansea and struck out on his own. He will know exactly what Sanches can provide and will give him the space to thrive.
It might not be the most glamourous destination for one of Europe's hottest properties but the pieces fit. For Bayern too it's a top deal. They'll get a reported €8.5m fee for the one season Renato plays at Swansea on loan and will get him back with many more minutes in his legs next summer.
It might well be the Portugal Under-21s this week but don't back against Renato making the senior squad for the World Cup in Russia next summer. His career has suffered its first setback but the only way is up.