Arsenal
Emery exposed as Everton annihilate Arsenal & five tactical lessons from the weekend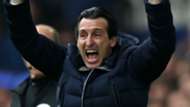 The biggest story on the Premier League weekend came on Friday evening when a magnificent Mohamed Salah goal ended his personal drought and kept Liverpool in the title race at Southampton.
After that, it was a quiet weekend in the league, only for Watford and Wolves to produce one of the greatest ever FA Cup semi-finals. Gerard Deulofeu helped the Hornets come back from two goals down to win in extra time at Wembley.
Elsewhere, a series of tactical errors from Unai Emery helped Everton beat Arsenal while Burnley moved eight points clear of the relegation zone courtesy of a familiar problem at right-back for Bournemouth.
Here are five tactical points from the weekend Premier League and FA Cup action...
---
Henderson & Milner add vital energy to Liverpool's title tilt
---
Mohamed Salah's brilliant late goal could prove to be the defining moment of Liverpool's season; the moment their talisman rediscovered his form and carried his team to their first league title since 1990.
Salah deserves the majority of the plaudits for Liverpool's win, although it was Jurgen Klopp's surprise double substitution that raised the tempo and put his side back in control of the match at a time when it looked like Southampton were more likely to grab the winner.
In the 59th minute, Klopp brought Jordan Henderson on for Georginio Wijnaldum (rather than introduce the more attacking player, Xherdan Shaqiri) and withdrew Trent Alexander-Arnold, arguably the club's most creative player in recent weeks.
It was a big gamble, but Klopp was vindicated by the way it restructured the tactical pattern of the contest.
Nathan Redmond and Ryan Bertrand had doubled up to cause problems for Alexander-Arnold all evening and, with James Milner on the pitch, the threat was significantly reduced.
Milner showed greater experience, dealing with the two-on-one without committing to a challenge. As Southampton's counterattacking threat diminished, Liverpool upped the tempo via Henderson's quick vertical passing and bursting forward runs.
The Liverpool captain was in a more advanced role than usual, visibly lifting those around him and turning the tide in the visitors' favour.
It was his brilliant header that set Salah away for his goal, and it is not too much of a stretch to suggest the Egypt international may not have been so direct, purposeful, and confident had Henderson not already changed the atmosphere inside St Mary's.
---
Everton expose Arsenal all over the pitch
---
Arsenal's 3-4-3 formation works well at home because opponents are more likely to sit deep and absorb pressure, meaning the Gunners' wing-backs are very high up the pitch and both outside centre-backs can step forward in possession, creating a huge overload of bodies in central midfield.
However, in a more territorially even contest, the wing-backs and centre-backs are deeper, which can leave the midfielders in a square shaped 2-2 with little support from the back five.
The key to meaningful possession football is constant 45-degree passing options, the sort Pep Guardiola teams constantly seek to create. Arsenal's shape on Sunday did not have the right angles for quick, Emery-like short passes.
Everton knew just how to make the most of this. Idrissa Gueye and Andre Gomes ran the game by sitting high on Mohamed Elneny and Matteo Guendouzi to make it very difficult for Arsenal to make the vertical pass through midfield.
Bernard shifted in from the left to add an extra body here, cutting off the line to Mesut Ozil, while Richarlison stayed high to the right to attack Nacho Monreal. Their head-to-head was consistently won by the Brazilian.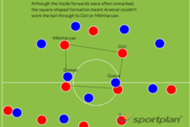 ---
Emery fails to find solutions to Gunners' struggles
---
Emery saw that his team were being overrun in midfield and moved to a 4-2-3-1 at half-time to create more balance across the pitch, but this failed to fix either of their main problems.
Firstly, Monreal was now a roaming left-back, which ensured Richarlison got even more joy down that side of the pitch.
More importantly, Aaron Ramsey did not work as a deeper central midfielder. His desire to join attacks left Guendouzi alone against Gylfi Sigurdsson and Gomes – who only became more dominant in the second 45.
Time and again Everton would win a 50-50 to find themselves in huge amounts of space between Arsenal's back four and two central midfielders.
Emery should be thankful that Everton were wasteful in the final third, with Dominic Calvert-Lewin and Richarlison both making poor final decisions to keep Arsenal in the game. It could easily have been a 5-0 defeat.
---
Deulofeu does the trick as Gracia's game-changer
---
It does not take a forensic analysis of Watford's victory in their FA Cup semi-final on Sunday to notice Gerard Deulofeu changed the game in their favour, but it was not just the goals that made the winger so important.
His introduction in the 66th minute involved a subtle tactical tweak from Javi Gracia – and one that Wolves never got to grips with.
Watford moved from their diamond 4-4-2 to a lopsided 4-3-3, with Deulofeu on the right wing supporting Troy Deeney and Andre Gray as Roberto Pereyra tucked in to form a three in midfield.
It was an important change because, up until that point, Wolves had barely been tested in the wide areas and consequently their wing-backs Jonny and Matt Doherty were dominating the flanks.
That might explain why Jonny stayed so far forward after Deulofeu was on, his confidence (and the 2-0 lead) giving the left wing-back a false sense of security.
The Watford winger frequently found space on the outside of Willy Boly and drove his team forward, carrying the ball deep into Wolves territory to ensure they could apply constant pressure.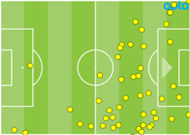 PIC: Deulofeu touches vs Wolves
---
Calamity Clyne causing Bournemouth huge headaches
---
For the second successive home game, problems defending their right flank have cost Bournemouth points, this time against a Burnley side that sprung no surprises.
Eddie Howe's flimsy 4-4-2 was unable to cope with a physical Burnley performance that the hosts should have seen coming.
Burnley's first goal was a goalkeeping error from a corner following a move down Nathaniel Clyne's side, the on-loan Liverpool defender failing to get across quickly enough to sniff out the danger effectively.
The second goal was via a cross from Dwight McNeil after he easily skinned Clyne and, after the right-back was subbed off, Adam Smith was similarly beaten ahead of Burnley's third.
Clyne was also to blame for both goals in the 2-2 draw against Newcastle before the international break, and Howe has a serious problem developing.
The solution could be to play a more defensive right winger to get back and support Clyne or, when facing a 4-4-2, pick three central midfielders – using the spare man to provide cover behind the right-back.