Super League
Elavarasan blames PKNS midfield for defeat to Kelantan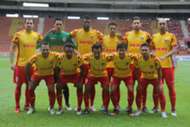 ---
BY         NIK AFIQ        Follow on Twitter
---
PKNS FC head coach, Elavarasan Elangowan has blamed his midfield after they suffered a 3-1 defeat to Kelantan at the Shah Alam Stadium, their second defeat in a row in the Super League.
Elavarasan admitted that they didn't perform well in the midfield department, and that resulted in the defeat at the hands of the Red Warriors.
He added that despite having good strikers on the field, the supply from midfield was weak and ineffective.
"I coukd see the weakness in our midfield. Although we have good strikers, but when we reach the middle third, we cannot get the ball to our strikers."
"Overall, it was not so good. We could not supply the ball to our strikers. When the engine room didn't function, the whole team can't play well."
Elavarasan also admitted that Kelantan were the better team, and believes that experience played a key role in Kelantan's performance.
He added that it will take time for his team to gel, but believes it is a matter of time before they can get their first win.
"This is only the second game. As newcomers, when we play in the Super League, you will go up against teams that have been here for many years."
"They have the experience and their performance is always consistent. In the Premier League, you don't play strong teams every week."
"But it is different in the Super League. State teams are strong, despite their off-field problems and they are always consistent. To break the barrier, we need more time," added Elavarasan.
Mohamad Ghaddar's brace and a goal from Badhri Radzi gave Kelantan their first three points of the season, with Gonzalo Soto scoring PKNS' consolation goal of the evening.