Baroka v Orlando Pirates
Duncan Lechesa: Orlando Pirates must be careful because Baroka are not in the final by fluke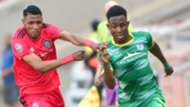 Former Black Leopards midfielder Duncan Lechesa says it is no fluke that Baroka FC are in the final of the Telkom Knockout Cup as football in the Limpopo province is proving.
The Free State Stars reserve team coach believes Orlando Pirates will win the TKO Cup, but they must be careful of Bakgaga.
"I know people believe Baroka are underdogs, but you know they must not check the PSL log table and say Pirates will have it easy because Baroka are struggling," Lechesa told Goal.
"I think they are not struggling in the league because they are not playing good football, but luck is not on their side. They beat defending champions, (Bidvest) Wits in the Telkom Knockout Cup, beat (Mamelodi) Sundowns and these are defending champions of the league," he noted.
"That must tell you something about how much they want this cup, I don't think it's a fluke. My point is that it won't be easy for Pirates on Saturday," he continued.
"They are also looking for a trophy after spending about four years with no trophy and they will be more dangerous because of their good players, speed and a good technical team," said the former Polokwane City coach.
"Pirates will also want to win this one because they are leading in the league, but they will also think about Wits and Sundowns who are breathing down their necks and that will push them to win this one because they have a chance," he added.
"I foresee a game of 50/50 where both sides have a chance to win it. It will be a tight encounter," predicted the former Royal Eagles mentor.
Speaking about football development in Limpopo, Lechesa reckons the province is on the footsteps of provinces such as Gauteng.
"I think the province has achieved a lot in the past couple of years. They have three teams in the top division and that is an achievement already," continued the coach.
"For Baroka to reach the final is a bonus and if they win it, that will be something massive for the province as a whole. I think more teams will be motivated in the province and knowing the ministry of sport as a fan of sports, I believe something must be done to encourage Baroka in terms of awards or bonuses," he said.
"Basically they have done well as a province and they have PSL representatives following on the footsteps of Gauteng," he reacted.
"However, they must learn to balance their priorities and learn from what happened to Wits last season. They won the Telkom and nearly got relegated – they must balance these things, but I am sure they will plan accordingly," he responded.
The Bloemfontein-born football legend said the Soweto giants will win, but the match could go to extra time.
"As I said it will be tight, but I still want to give to Pirates and it can go to extra time. The way Pirates play using speed and quality players, experience in cup games will come through for them," he concluded.