Opinion
Dull Cameroon are the champions Africa deserves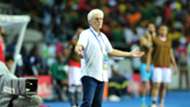 ---
COMMENT    By Solace Chukwu    

Follow on Twitter
---
It is sadly inevitable, and even, to some extent, understandable that Cameroon's lacklustre showing at the Confederations Cup will be held up as a failing on Africa's part. It is, after all, a representative tournament where continents send 'nominees', as it were – my champions against yours; and for all of the Indomitable Lions' physical bulk, it was clear they were very much the David to the Goliath of Germany and Chile.
So, feel free to indulge in the reductionist, slightly racist trope that the second largest continent in the world is utterly incapable of producing technical footballers.
Hugo Broos' side were dull and naive in Russia, lacking any sort of invention: against Chile, they only came into the game in the second half as the physical tax of the South American champions' relentless style began to kick in, but for Fabrice Ondoa and VAR (Fifa's favourite new toy), they could well have been 3-0 down by then.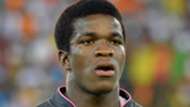 A third-string Germany were 1-0 up and already outclassing the Lions by the time Ernest Mabouka was sent off in the second half, a strain of rash impetuousness that saw the same player give away a needless penalty against Australia.
In terms of profile, they were perhaps even the sore thumb in their group, and proof that isolated success in tournament football is not always the most revealing of excellence.
Australia dominated Oceania, and gave up their massive advantage in size and economic dominance to compete in Asia; Chile have starred with this generation at two World Cups and won the last two editions of the Copa America, including the much maligned 'Centenario'; while Germany are world champions, and have reached at least the semi-finals of the last five international tournaments.
Make no mistake though: they were the best team in Africa over those three weeks in Gabon. This is acknowledging the work that Broos has done, which is make this unfancied, unrecognizable collection of individuals – Africa's answer to the Bad News Bears – into something even loosely coherent. The goal of teambuilding is to achieve a multiplier effect, to make the whole more than simply a summation of menial parts, then the Indomitable Lions are as strong a team as you will find on the continent.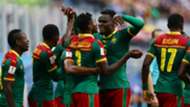 They do not have the best parts, or even the best compartments; indeed, one is hard-pressed to name a single department of the team in which the five-time African champions are head and shoulders above anyone else. Adolphe Teikeu and Michael Ngadeu-Ngadjui perhaps form the most physically robust central defensive partnership, but that's about as good as it gets.
The aforementioned Ondoa is wonderfully agile, but no less impressive is young Burkinabe Herve Koffi, who will be taken under his wing by Vincent Enyeama at Lille next season.
The midfield of Sebastien Siani, Andre-Frank Zambo Anguissa, Arnaud Djoum and/or Georges Mandjeck is completely lacking in guile and imagination, and is easily bettered by (at least) half the teams that were at the Afcon in January. It is, sad as it is to recall, a comedown for a nation that once had the late Marc-Vivien Foe and Lauren riding roughshod over this same competition.
Broos prevaricated and threw numbers at his attacking problem at the Afcon, changing his starting centre-forward by the game, and even at times playing two upfront.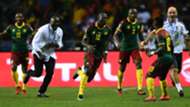 In Vincent Aboubakar, upon whom he appears to have settled, he has a bright forward, a true battering ram with, typically, no fine tip.
Christian Bassogog is quick and tricky, with little else, while Benjamin Moukandjo works hard and takes good set pieces, but lacks star quality in open play. Senegal, with their attack purring in Franceville, will be wondering quite how they let it get on penalties against this lot.
However, it was not so much a Cameroonian failing as it was a tournament-wide one, and it did not help that the likes of Tunisia, Senegal and the Democratic Republic of Congo, their more expansive participants, were gone after the last eight.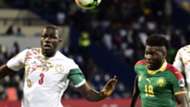 Those teams, more than anyone else, captured the carefree, footloose spirit of the continent's football, one which is slowly stirring from a dark, sepulchral hibernation. In that sense, perhaps (and hopefully) Broos' team are the final vestiges of a fading paradigm, one based on brawn and sinew.
This showing does, however, make a mockery of 9.5 African places at the World Cup in 2026, exposing it for what it is: a populist move geared toward garnering universal approval for a new Fifa leadership, rather than one based on pure merit and footballing progression.
No continent that produces a champion like Cameroon deserves to have more places than South America, which has produced three different world champions.
In the meantime, it is quite hard to begrudge the Indomitable Lions: they are the (fitting) champions (of a poor tournament) Africa deserves, but not the ones we need to change a narrative as old as time.