Arsène Wenger
'Don't wish it away!' - Neville warns Arsenal removing Wenger could mirror Man Utd's loss of stability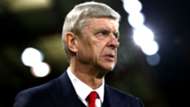 Gary Neville has told Arsenal they should never underestimate the power of stability as calls for Arsene Wenger's reign to come to an end grow in intensity.
The Frenchman has spent over 20 years in the Gunners dugout, overseeing an era of considerable success.
Please retire Arsene and save yourself
There is, however, a feeling that the club is starting to stagnate under his stewardship, with familiar themes running through any given season.
Wenger is currently overseeing events that look set to deliver another challenge for a top-four finish, rather than the Premier League title, and a last-16 exit from the Champions League.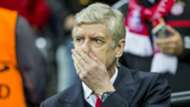 Neville can understand the frustration, but having formed part of a glittering period in Manchester United's history under Sir Alex Ferguson has warned that a change in direction could lead to a period of instability similar to that which the Red Devils are only just starting to recover from.
He told Arsenal Fan TV after being invited on to discuss his 'idiot' comment aimed at a fan calling for Wenger's head:  "What Arsenal have got, and still do to this day, and you should never underestimate the power of this, is stability, support, loyalty, being a club that offers managers an opportunity for over 12 months, sticks by people, thinks in the long term. All those qualities that I love Manchester United for.
Wenger: I'll manage next season
"But when they sacked [David] Moyes after eight months, or let Louis van Gaal go, I'm not going to sit here and say they're the wrong decisions, but I loved the fact I could hold onto the loyalty, the stability, the fact that you have a traditional club.
"I actually respect Arsenal for that. Hold onto those things. Don't wish it away!"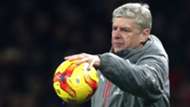 On the legacy the Gunners boss will leave behind when he does finally move on, Neville added: "It's a unique one with Arsene Wenger, what he has achieved at the club, the greatest ever manager for Arsenal.
"His performance levels consistently for 20 years have been unbelievable. And you'd have to say, I do go along the line of, 'Be careful what you wish for'.
Conte: Don't forget Wenger's work
"Not in the sense that change isn't good, because it can be, but Arsenal's spending has been less than all the other clubs. Tottenham, Liverpool, Manchester City, Manchester United, Chelsea.
"To continue to finish second, third, fourth over that period while still spending that much is an unbelievable achievement."