Videos
Diego Carlos kick referee suspended until further notice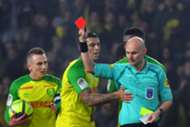 The French Football Federation (FFF) has announced that referee Tony Chapron has been suspended until further notice and will face a disciplinary hearing after kicking out at and then sending off Nantes defender Diego Carlos.
With time running out in the game and Nantes trailing 1-0 at home to Ligue 1 leaders Paris Saint-Germain, Chapron was involved in a bizarre moment with centre-back Diego Carlos. 
The defender inadvertently tripped the official up while trying to cover a break, yet the referee took exception to this action and seemed to kick out at him before sending him off and awarding PSG a free-kick.
Have you ever seen a referee kick a player AND then send him off?!

You have now!!! pic.twitter.com/YSN2p8WVsr

— Goal USA (@GoalUSA) January 14, 2018
It led to an outcry from the home team, who branded the incident "absurd" and called for the booking to be quashed.
Chapron, meanwhile, has been suspended indefinitely by the FFF, which has taken the experienced official off the midweek match between Angers and Troyes, which he was scheduled to oversee. Furthermore, he will stand in front of the League (LFP's) Disciplinary Commission, having admitted that after looking at the video replays of the incident that he believes he was not tripped intentionally.