World Cup
Delph and Tarkowski still hopeful of England World Cup call-up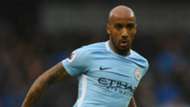 Fabian Delph and James Tarkowski are hopeful of an England World Cup call-up and will be nervously waiting by their phones on Wednesday when Gareth Southgate announces the squad.
Manchester City's Delph has ended the season as a Premier League champion after impressing at left-back for large parts of the campaign after an injury to Benjamin Mendy.
Delph can also play in midfield and his versatility will bode well for his England chances after being happy with his form this season.
"I'm itching to get on that plane, I've had a good season and I've shocked a few people," he told BBC Sport.
The former Villa man has not been in the England reckoning since pulling out of the squad in November before the friendlies against Germany and Brazil, and he is worried that may hamper his chances of a call-up.
"The only problem I might have is that I've pulled out of the squad this year when I've not been fit, but Gareth Southgate is a good guy and a good manager," he added.
"I've spoken to him a few times and he knows what my answer will be. I'm quietly confident that I probably will get the call-up."
Tarkowski, meanwhile, has had a fine season at Burnley as Sean Dyche's qualified for the Europa League.
The defender made his England debut against Italy in March and he played well before giving away a late penalty, and he is hoping he has done enough to be part of Southgate's plans in Russia.
"I'm hoping so, fingers crossed. There's not much I can do now, I've done all the work I can," said the centre-half.
"I'll have a little break this week and if I'm in it terrific, it will be great to be a part of. If not, it will be an opportunity to get some rest.
"From last summer I was nowhere near the squad, so to even be in with a chance of making the squad is nice. I'll see what happens."