United States
Defender turned down USWNT call-up to avoid wearing LGBTQ pride jersey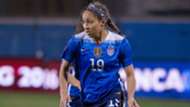 When Jaelene Hinkle turned down a call-up from the United States women's national team last June, the defender only cited "personal reasons."
Almost a year later, Hinkle has revealed the real motivation behind her choice: She did not want to wear the USWNT's LGBTQ Pride Month jerseys.
This week, the 25-year-old North Carolina Courage defender told Christian talk show The 700 Club that her faith caused her to feel uncomfortable with the special-edition kits that featured rainbow-colored numbers on the back. 
"I just felt so convicted in my spirit that it wasn't my job to wear this jersey," Hinkle said. 
"And I gave myself three days to just seek and pray and determine what He was asking of me to do in the situation."
Hinkle has been capped eight times by the USWNT, but hasn't been called up again since turning down the invitation last June. 
The defender said she's at peace with the possibility that she may never represent her country again. 
"If I never get a national team call-up again, that's just part of His plan and that's OK," she said. 
"And maybe this was why you were meant to play soccer. Just to show other believers to be obedient."