South Africa
David Kannemeyer urges Bafana Bafana to keep the hunger following Seychelles mauling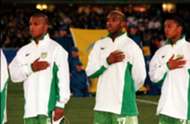 Following a resounding 6-0 win for Bafana Bafana over Seychelles in a 2019 Africa Cup of Nations Group E qualifier at the FNB Stadium, legend David Kannemeyer says Bafana must remain disciplined.
The former left-back believes the win was a big one for coach Stuart Baxter's men, but they must remain wary of a wounded Pirates team ahead of the second match on Tuesday.
"Yeah I think it's a mind blower, but we can't read too much into it. We must keep our feet on the ground because it is still a long way to go before qualifying," Kannemeyer told Goal.
"I think it was pleasing to see flair going forward, positive build ups, and if we play like that on any other day against any team, we can hurt any team because we had great combinations and we showed creativity in our play," he explained.
Ahead of the encounter set to be staged at Stade Linite on Tuesday afternoon at 16:30, the former Mamelodi Sundowns defender has urged the 1996 African champions to remain hungry and tactically disciplined.
Kannemeyer also went on to praise coach Baxter for not changing the way his players display their talent at club level.
"I think that's why I am saying we need to get ready for an away match. We need to have the same application, we don't have to win 3-0, but we need to consolidate," he added.
"Look I know Dino (Ndlovu), I've worked with him at (Mpumalanga Black Aces) Aces. He is talented and dangerous going forward I can also praise the coach for not changing how the guys play at club level," noted the former Ajax Cape Town defender.
"I also like the fact that he selected players based on merit and those who are on form, that worked well for Bafana," added the retired star.
Moreover, the man who made a name for himself while turning out for Cape Town Spurs back in the day, believes the islanders are like a wounded lion.
"A number of things as I mentioned worked for us yesterday, but we need to remain disciplined going there," he continued.
"I think they are not a bad team, but we had a good plan for them and we must not be complacent because they will come with guns blazing at home," he urged.
"I think we need to manage the game properly, aim to consolidate and not take things for granted because they are angry," warned the Mother City-born former player.
"Their coach (Gavin Jeanne) said they are not adding numbers in the qualifiers and I am sure they will want to do something in front of their supporters. So we need to remain disciplined and keep the hunger," he concluded.