UEFA Champions League
Dani Alves keen for Juventus to avoid 'strange' Barcelona tie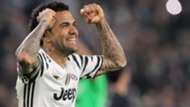 Juventus defender Dani Alves would prefer to avoid playing former club Barcelona in the Champions League, unless they meet in the final.
The 33-year-old left the La Liga champions last year to join Juve, having enjoyed a trophy-laden eight seasons at Barca.
A 1-0 win over Porto on Tuesday saw Juventus complete a 3-0 aggregate success as they reached the Champions League quarter-finals.
Buffon doesn't want to face Foxes in Champions League
But Dani Alves has no interest in a clash against Barca, who completed a stunning comeback to get past Paris Saint-Germain.
"I don't want to play Barcelona. It would be too strange for me," Alves told beIN Sports.
"If I have to play Barca, I'd prefer it to be in the final."
A first-half penalty from Paulo Dybala was enough for Juve to overcome a 10-man Porto in their second leg.
Real Madrid, Bayern Munich, Borussia Dortmund and Leicester City are also into the last eight, with Atletico Madrid and Manchester City favourites to join them.