African All Stars
Cuellar praises Adomah ahead of Leeds United trip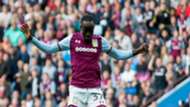 Former Aston Villa defender Carlos Cuellar has heaped praise on Ghana midfielder Albert Adomah following his fine showing in the Championship.
The 29-year-old has suddenly become the brightest spot in Villa's setup and has scored 11 goals so far, one more than what rivals Birmingham City have done as a team. 
With his impressive stats—68 per cent of Adomah's shots have been on target in the league, and it has only taken him 120 minutes on an average per goal.
"Our start this season was a little bit slow but we've looked very good since mid-September," Cuellar told the club's website.
"The team are very solid at the back and Albert Adomah in particular is doing great things up the attacking end of the pitch.
"Before the campaign started, I remember reading the news in the days that led up to John Terry's signing and I thought: 'no way, the press are crazy, this won't happen'. I've never been so glad to admit I was wrong," he added.
Cuellar hasn't been present at any of Villa's games since the 6-1 thrashing by Sunderland in the Premier League and says he will be present in the summer to celebrate the club's qualification.
"I've not been back to Villa Park since losing 6-1 with Sunderland. There were a lot of emotions to cope with that day. So I will do my best to get back perhaps in the summer and enjoy a better experience.
"Maybe for a promotion party? I'd love that!"