Real Madrid
Courtois v Navas v Luca Zidane – the battle to be Real Madrid's No.1 next season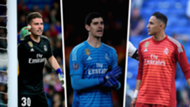 When Zinedine Zidane returned to Real Madrid, many changes were expected.
His reappointment promised lifelines, but a first appearance of the season for his goalkeeping son, Luca, was unprecedented.
With Thibaut Courtois injured and Keylor Navas having just returned from the international break, Zidane explained his decision was made in order to give the latter a rest.
"Next season there will be no debate about the goalkeeper – it's going to be very clear," he added.
"At the moment, there are three good keepers and we are going to finish the season with them."
Early signs suggested Zidane would put his faith in Navas, the man who helped deliver three Champions League titles, as he picked him for his first game in charge.
But the coach himself said his decision was not "final", explaining: "Thibaut is going to play again and the third goalkeeper is Luca. That's three good goalkeepers but Madrid should have three or four great goalkeepers.
"You cannot contest four, five or six competitions with just one great goalkeeper." 
With Courtois injured for three of his four games so far - the same number that Navas has started – and with his son also getting a game, Zidane's preferred shot-stopper for next season remains unclear.
Reports have even suggested that Andriy Lunin, currently on loan at Leganes, is in the picture, with Marca understanding that Zidane wants him as the back-up to Courtois.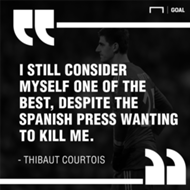 That is despite the Belgian having underwhelmed since arriving from Chelsea last summer, so much so that he currently has the third-lowest save percentage (65.12) among La Liga's goalkeepers (minimum 15 appearances).
Yet despite criticisms and poor form, Courtois has not lost his confidence, saying: "I still consider myself one of the best, despite the Spanish press wanting to kill me." 
His main competitor for a starting place is similarly determined. "Today the sun came up in the line-up because my name was in. You have to take advantage of the moment," Navas said after being selected for Zidane's first game in charge – a 2-0 win over Celta Vigo. 
Having spent so long in the cold – even admitting: "I did have the feeling that whatever I did in practice, I wasn't going to play [under Solari]" – Navas will be fierce competition for Courtois before the season is out.
However, if Zidane is to decide on the Belgian as his first choice, Navas is unlikely to stick around, saying: "I have given everything for this club and I will continue giving it while I'm here, but I don't want to spend another year like that."
Other than an age gap of six years, there is little between Zidane's two front-running candidates.
Courtois has over 450 appearances to his name at just 26-years-old, has been first choice for three title-winning teams – twice with Chelsea, and once with Atletico Madrid while still just 21 – and was named 'IFFHS World's Best Goalkeeper' last year.
Navas, meanwhile, may have played just short of 400 senior games, but he was the starting shot-stopper for Zidane's three successive Champions League winning campaigns.
With Courtois currently injured, one cannot make assumptions about who the manager prefers in the long-term, but his words certainly suggest Navas' game time is more out of respect than preference.
"I like Courtois [as well as Navas]," he said last month. "Thibaut has shown he is a great keeper but I want Keylor to feel important too. I don't forget what he has done. He has played less but he has to play."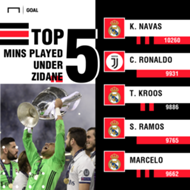 With the Costa Rica international having just turned 32-years-old, if Zidane is building for the future like reports suggest, then he and Madrid may well look to cash in on a player whose current deal will run for another two years.
That possibility is strengthened by the two promising young goalkeepers behind the more senior pair.
Luca Zidane is a France youth international who was the starting shot-stopper for his country's 2015 UEFA European under-17 Championship triumph.
The 20-year-old was handed his senior debut by his father at the end of last season and was given the nod for Madrid's clash with Huesca last month.
He has earned praise from Madrid goalkeepers past and present, with Navas saying: "Luca is a great goalkeeper, he has shown that he is where he is because he has earned it and nobody has given him anything," while former shot-stopper Kiko Casilla told Marca: "He's going to be an elite goalkeeper for many years."
Elsewhere, fellow 20-year-old Lunin has also been getting his first taste of La Liga football on loan at Leganes.
The former Dnipro player joined Real Madrid in the summer after two impressive seasons in Ukraine – which led to him making his senior international debut in March of last year.
He has only played five games this season, but Madrid have high hopes for a player they paid an initial €8.5 million (£9.9m/$9.5m) fee for just 10 months ago.
As for the trio who currently find themselves battling it out, they can only take the opportunities they are handed between now and the end of the season.
Zidane has stressed that plenty "depends on which goalkeepers [Madrid] will have next season".
For now, it's up to Courtois, Navas and Luca to make sure they do enough to avoid being part of an inevitable summer clear-out at the Bernabeu.