Arsenal
'Continuity is rare' – Cech warns Arsenal could become a hiring and firing club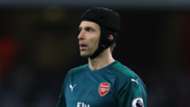 Petr Cech has warned Arsenal that "continuity is rare" as the club prepares to enter the unknown in the wake of Arsene Wenger's departure.
A man who has spent 22 years at the helm in north London has taken in his final game as Gunners boss.
No successor has been appointed as yet, but Goal has revealed that former skipper and current Manchester City first-team coach Mikel Arteta is the preferred option.
Whoever takes the reins will have big managerial shoes to fill and Cech concedes that Arsenal may be entering a period of instability which leads to hiring and firing after so many years of consistency.
The veteran goalkeeper told The Sun on whether a new dynasty can be built at Emirates Stadium: "It will depend how well the club and manager will do.
"If you are at the club where there is continuity then everybody gets used to it, but it is really rare.
"You can see the example of Manchester United - Sir Alex Ferguson stopped and when [Louis] van Gaal came everyone thought it was going to be a long-term coach, and he was not as successful as everybody expected and they made a change after two years.
"Consistency in football is one of the hardest jobs, especially when you are a manager or coach. The new manager will find the club in a very healthy position and obviously he will need to succeed as well. That will determine how long the new manager or coach stays."
One of the first tasks facing the new Arsenal boss will be addressing away form which Cech admits was "terrible" towards the end of Wenger's reign – with a final-day victory at Huddersfield seeing the Gunners collect their first points of 2018 on the road.
The 35-year-old added on the potential for a title challenge to be mounted next season: "When you see our home form this season we are up there. The difference between us and the others were away games.
"We had a terrible run of results away from home and this is what cost us the season.
"It has been a disappointing season as we ended without a trophy. It has been disappointing because we are out of the top four.
"The away form has been our issue, if you look at our home form we are right there at the top of the table. But away from home we unfortunately dropped too many points to be in the top four.
"It is something we need to change for next season."