Christian Pulisic
Pulisic, Gonzalez headline Americans Abroad Best XI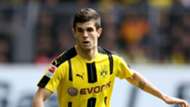 It was a good year for American players plying their trade in foreign countries, and with a generation of young talents making the jump to Europe, the future should be even brighter.
American players from Mexico to the Netherlands secured silverware, while others helped their teams earn promotion to the first division. Others have revived their careers after they had stagnated, while another set of players shook off injuries to salvage good campaigns.
Sargent the missing piece for U.S. U-20s
This past European season also saw the emergence of American soccer's great hope, Christian Pulisic, who rose from teenager making his pro debut at Borussia Dortmund to regular contributor and UEFA Champions League difference-maker.
To understand how good a year it has been for Americans abroad, consider that you could reasonably construct two full teams made up of U.S. players coming off strong seasons. That may sound like a modest accomplishment, but given the talent that left Europe two years ago, it is encouraging to see the trend bounce back as more Americans establish themselves in foreign leagues.
Here is Goal's Americans Abroad Best XI for the 2016-2017 season, as well as a closer look at all 11 selections, and the players who just missed out: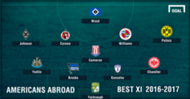 ---
WILLIAM YARBROUGH, Club Leon
---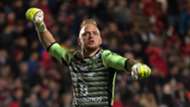 The days of multiple American goalkeepers holding starting jobs in the English Premier League have come and gone, and with Brad Guzan preparing to join Tim Howard in MLS, there will be no American shot-stoppers playing in the top leagues in Europe.
Yarbrough was the only American goalkeeper to have a regular role in a top foreign league, as the starter for Liga MX side Leon. Yarbrough started 38 matches and recorded 10 shutouts for the club, which reached the playoff semifinals in the Apertura season in the fall. 
Ethan Horvath is seen as the future of the goalkeeping position, and his success at Norwegian side Molde earned him a winter transfer to Belgian power Club Brugge. He spent most of his first half-season in Belgium on the bench but did earn four consecutive starts to close out the season.
---
---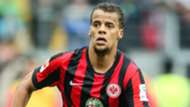 Though he continues to be maligned for his form with the U.S. national team, Chandler enjoyed a career year with Eintracht Frankfurt. He settled in as the team's right wing back and contributed excellent play to help Eintracht make a run to the DFB-Pokal final, as well as enjoy an outstanding first half of the season before league struggles set in down the stretch.
Chandler led all American field players in first-division minutes played, starting 31 of Eintracht's 34 Bundesliga matches. He delivered three assists and led the Bundesliga in successful crosses (31), while he also cracked the top 20 in chances created from open play (34).
It was a good year for American fullbacks, with Eric Lichaj deserving an honorable mention. His Nottingham Forest side narrowly avoided relegation from the Championship, and Lichaj was named the team's player of the season. He led all Americans abroad in minutes played this season, starting 39 matches for Forest, delivering two goals and two assists in the process.
---
---
Despite some injuries that limited him to 24 starts this past season, Brooks was still a driving force behind Hertha Berlin's sixth-place finish in the Bundesliga, which earned the club a place in the Europa League. The U.S. national team regular came into the season with high hopes after a dominating display at last summer's Copa America, and when he was healthy he did play at a high level.
Brooks led Hertha Berlin in clearances (121), while finishing second in passes completed (1176) and passing accuracy (86 percent). He contributed two goals as well.
Tim Ream deserves honorable mention for his solid campaign starting for Fulham. He found a home in central defense after playing at fullback and in a defensive midfield role, finishing with 28 starts on a Fulham team that finished sixth in the English League Championship.
---
OMAR GONZALEZ, Pachuca
---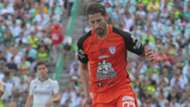 No American had a better year playing outside of the United States than Gonzalez, who added two more titles to his already impressive resume. The former LA Galaxy star and current U.S. national team regular helped Pachuca win the Liga MX Apertura title last winter, then followed that up by helping the Tuzos win the CONCACAF Champions League.
Gonzalez made 31 combined league starts for Pachuca across the Apertura and Clausura campaigns, emerging as one of the most consistent central defenders in the Mexican League.
Gonzalez wasn't the only Americans Abroad center back to lift a trophy. Matt Miazga made the most of his loan move to Dutch side Vitesse Arnhem, helping the club win the Dutch Cup, the first major piece of silverware in the club's history. He made 23 appearances for Vitesse in league play, contributing two assists.
---
---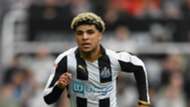 When Yedlin passed on some Premier League options to sign with Newcastle United, it wasn't met with universal praise, but by the end of his first season with the Magpies, nobody could argue that it was a bad decision.
The U.S. fullback became a regular for Rafa Benitez's squad, playing at a high level that earned him plaudits as one of the best fullbacks in the League Championship. He made 27 appearances for the Magpies, and only an injury in the spring prevented him from breaking the 30-game mark. He finished second to Christian Pulisic in assists by an Americans abroad with five, and also contributed a goal in his 1921 minutes played to help Newcastle earn promotion to the Premier League and lift the league title.
Jonathan Bornstein enjoyed another strong season with Queretaro, starting a combined 27 matches in the Apertura and Clausura, while helping the club to a Copa MX title last fall.
---
---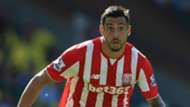 Injuries marred a big chunk of Geoff Cameron's season, but when he was in action it could be argued he was the best American playing in Europe. The Stoke City man continued to be a versatile option for the Potters, playing in central defense and central midfield when needed, and he returned from a long injury layoff to finish the season on a strong run of form.
Cameron finished with 18 starts for Stoke City, including eight straight to close out the season. His return couldn't help Stoke City's late-season slide to a 13th-place finish, but Cameron was one of the team's best players down the stretch and was rewarded with a contract extension that will keep at the club until 2020.
Few American midfielders enjoyed a better start to 2017 than Emerson Hyndman, who followed up a frustrating first half of the season at Bournemouth with a successful loan move to Scottish side Rangers FC. Hyndman finished with four goals and was on a run of 16 consecutive league starts before suffering an injury late in the season.
---
DANNY WILLIAMS, Reading FC
---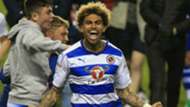 Danny Williams put together another good season as a regular starter for League Championship side Reading FC, only this year those efforts could lead to a place in the English Premier League.
Williams made 36 regular season starts for the Royals, and has been a key figure in Reading's run to the English Promotion Playoff, which will see the Royals take on Huddersfield Town. Williams recorded four goals and an assist for Reading this season in a central midfield role he will be hoping to reprise with the U.S. national team in the near future.
Fellow German-American Alfredo Morales finished a tough year with Bundesliga side FC Ingolstadt, which saw the club relegated. Morales made 27 appearances for Ingolstadt, and should be a key player in the club's push to return to the top flight next season.
---
JOE CORONA, Club Tijuana
---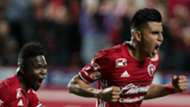 While players like Pulisic and Gonzalez enjoyed outstanding seasons, perhaps no American Abroad rejuvenated his career quite like Corona did this past season. 
After being deemed expendable by Club Tijuana more than a year ago, Corona saw his career hit a wall when he joined Liga MX club Veracruz on loan. He didn't play much with the Tiburones, but followed that with what seemed like a risky move to Mexican second-division club Dorados. The move paid dividends as Corona blossomed, helping Dorados win the Liga de Ascenso title. His form with Dorados earned him a return to Club Tijuana, and a new contract. He played his way into a starting role with the Xolos, making 19 starts on a Club Tijuana squad that finished in first place during the Clausura regular season. Corona contributed two goals and three assists from a deep-lying midfield role.
Shane O'Neill has been off the radar since leaving MLS, but this season he has thrived with Dutch second division side NAC Breda. O'Neill has become a regular starter in central defense, and has helped Breda reach the Dutch League promotion playoff finals.
---
CHRISTIAN PULISIC, Borussia Dortmund
---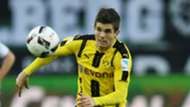 The most impressive season of any American Abroad belonged to Pulisic, who became a regular contributor to one of Europe's top teams, impressing in pressure-packed situations and shining on the UEFA Champions League stage.
The 18-year-old made 15 Bundesliga starts, and 29 total Bundesliga appearances, and played in all 10 of Borussia Dortmund's Champions League matches, starting six of them. He turned in strong outings against the likes of Real Madrid and Benfica, and finished with six goals in all competitions, along with nine assists, the most of any American Abroad this past season.
Pulisic has a chance to add some silverware to his dream season, when Borussia Dortmund faces Timmy Chandler and Eintracht Frankfurt in the DFB Pokal final on Saturday.
---
FABIAN JOHNSON, Borussia Moenchengladbach
---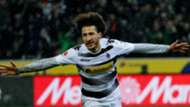 It was an injury-hit year for Johnson, but even though he was limited to 1251 Bundesliga minutes this past season, Johnson was still outstanding when he was healthy and played a key role in Borussia Moenchengladbach's UEFA Champions League and Europa League campaigns.
Nagging hamstring injuries sidelined the winger on multiple occasions, but he still managed to make 33 total appearances, recording four goals and four assists in all competitions.
Paul Arriola struggled for minutes in the 2016 Apertura for Club Tijuana, but enjoyed a breakout 2017 Clausura, becoming a regular starter for Miguel Herrera. He notched two goals and three assists in 12 starts for a Xolos side that finished in first place during the Clausura regular season.
---
BOBBY WOOD, Hamburg
---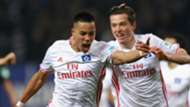 There was some question about how Wood would fair once he made the jump to the Bundesliga after finally enjoying a breakout in the 2 Bundesliga, but it didn't take long for him to show he belonged. By the end of the season, Wood had done well enough at Hamburg to be the subject of transfer rumors and praise from his manager.
Wood finished the season with five goals, tied for the team lead, but he also contributed to the defensive side of things for Hamburg, finishing second on the team in duels won with 177.
Andrew Wooten has become a bit of a forgotten man in American soccer circles, but the one-time U.S. Under-23 national team forward enjoyed a solid campaign for 2 Bundesliga side Sandhausen, scoring nine goals, the most by any Americans Abroad player this past season.