Mexico
Chicharito reveals toughest defenders, dream dinner companions in Twitter Q&A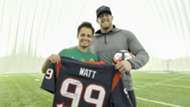 Mexico and Bayer Leverkusen forward Javier "Chicharito" Hernandez spent much of his Tuesday interacting with fans on Twitter, conducting an impromptu question-and-answer session and making many of their days by sending greetings to a number of fans.
Red-hot Fabian boosts El Tri's depth
In the course of the session, the forward selected PSG's Thiago Silva, former Barcelona center back Carles Puyol and Juventus' Giorgio Chiellini as the most difficult defenders he's ever come up against while playing.
But the 28-year-old generally stayed away from discussing the beautiful game, putting just two soccer superstars in his "Magnificent Seven" of dining companions: Brazil great Ronaldo and U.S. women's national team star Alex Morgan. He also listed NBA legend Michael Jordan, tennis champions Roger Federer and Steffi Graf and retired NFL superstars Ray Lewis and Jerry Rice. 
- Michael Jordan
- Roger Federer
- Alex Morgan
- Ronaldo Nazário
- Steffi Graf
- Ray Lewis
- Jerry Rice

hey Magnificent seven! Jaja https://t.co/k3bT6jJYp7

— Chicharito Hernandez (@CH14_) April 25, 2017
His selections for doing a dinner with Mexican athletes also showed a diversity of sport, with legendary forward Hugo Sanchez the first name on his list but boxer Julio Cesar Chavez, top racquetball player Paola Longoria, golfer Lorena Ochoa, former track star (and current senator) Ana Gabriela Guevara, Formula 1 driver Sergio 'Checo' Perez and former MLB pitcher Fernando Valenzuela rounding out his top seven.
- Hugo Sánchez
- Julio César Chávez
- Paola Longoria
- Lorena Ochoa
- Ana Gabriela Guevara
- Checo Perez
- Fernando Valenzuela https://t.co/AH3RsEnzyJ

— Chicharito Hernandez (@CH14_) April 25, 2017
The forward made clear that while NFL superstar J.J. Watt wasn't in his dinner party, part of the reason for his omission is that he'd already been able to meet and spend time with the Houston Texans defensive end. The die-hard Raiders fan stayed true to his colors when the topic turned to American football, naming Raiders quarterback Derek Carr as his favorite player, along with New York Giants wide receiver Odell Beckham Jr. and Watt himself.
He also said he hopes the rumors of running back Marshawn Lynch coming out of retirement to join the Raiders end up being true.
Derek Carr

Odell Beckham Jr.

J. J. Watt

Y que espero que se haga realidad lo de Marshawn Lynch a mis @RAIDERS

Saludos. https://t.co/ASYPOLSgJM

— Chicharito Hernandez (@CH14_) April 25, 2017
The forward later signed off, thanking everyone for their messages of support. He returns to the field Friday with Bayer Leverkusen hosting Schalke in Bundesliga play. Chicharito had missed the last several matches with the struggling side because of injury but was fit to start Sunday's 2-1 defeat to Freiburg.