Transfers
Chelsea & Liverpool target Pulisic told it is 'time for a change'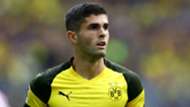 Christian Pulisic is attracting interest from the likes of Chelsea and Liverpool, and the United States international has been told by Alexi Lalas that it is "time for a change".
At just 20 years of age, the highly-rated midfielder is already into a fourth season as a senior star at Borussia Dortmund.
He has made over 100 appearances for the Bundesliga club and has become a leader for his country just 23 caps into a promising career.
Big things are expected of Pulisic, and it is expected that his full potential will be unlocked outside of Germany.
Premier League interest is said to be building, with Goal having confirmed Chelsea's interest, and former USMNT team star Lalas believes the time is right for a big-money move.
He told Cowherd: "There are teams all over the world that would love to have Christian Pulisic right now.
"I think he's done a great job in going over to Germany, he's done a great job at Borussia Dortmund.
"But I think it's time for a change right now for Christian Pulisic, and a change to an even higher profile team."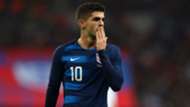 Lalas added of a man being charged with the task of helping America to recover from the disappointment of failing to reach the 2018 World Cup: "[Pulisic] is one of the phenoms in the world, he just happens to be American.
"There's going to be pressure to win, and to deliver. He's a very young player so he's still getting better.
"He's still physically growing, he's growing as a soccer player. There's a lot of pressure on his shoulders to lead us [USMNT] into the Promised Land.
"But if you're the man, you're gonna take it and say: 'Yeah, on my watch, we're going to make sure we qualify for the next World Cup. I am going to lead this team by example'."
Pulisic's current contract with Dortmund is only due to run until the summer of 2020, so they may be forced into a sale at some point.
They can demand a hefty fee for his services at this stage, but the strength of their hand in talks will start to wane as terms run down.