Champions League
Celta target Hirving Lozano puts in La Liga-quality performance to top FC Dallas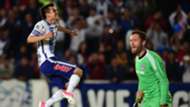 PACHUCA, Mexico — As Pachuca and FC Dallas battled for continental supremacy, Hirving Lozano showed he reigns supreme in the region.
Two goals from "El Chucky" lifted Tuzos to a 3-1 victory Tuesday, and the reported Celta de Vigo target looks every bit a player who is ready for La Liga. That's no secret. Mexico coach Juan Carlos Osorio has been banging the drum for months, and he's hardly the first. Lozano has been sensational since the moment he took a starting place as a teenager in 2014.
Lozano the hero as Pachuca tops Dallas
As the 21-year-old dipped and darted past Matt Hedges and Walker Zimmerman, leading Pachuca to a 4-3 aggregate triumph in the CONCACAF Champions League semifinals, it was easy to think of the battles he may have in store with those U.S. center backs on the international level. And with Dallas' own homegrown 21-year-old phenom Kellyn Acosta also putting in a good shift, Tuesday night brought plenty of hope for the future of the region.
"I think he's one of the most dynamic players I've ever played with. He can just make things happen," Omar Gonzalez, the former LA Galaxy center back now playing for Pachuca, said when asked what makes Lozano different from other attackers he's played with. "Landon Donovan was one of those players. He had a lot of speed and was very technical and stuff like that, so maybe he's comparable to Landon in a way, but Chucky Lozano is just tearing it up right now. I'm happy he's on my team."
Anyone would be. He made a mockery of the note surely in many scouts' books that his finishing must be improved with the second goal of the night, spotting a small bit of space and zipping through before firing a shot that FCD goalkeeper Chris Seitz couldn't get down quickly enough to stop.
GOAL Pachuca, @hirvinglozano70 No. 8 | @Tuzos @FCDallas #SCCL #SoyAficionado pic.twitter.com/CmdN97P58C

— CONCACAF (@CONCACAF) April 5, 2017
And while the third goal was more luck than skill — and another Seitz will feel should've been prevented — Lozano's body of work Tuesday showcased why he wouldn't have trouble fitting in on the opposite wing from Iago Aspas. The way Lozano can cut inside to his right foot so quickly, how difficult he is to stop when he's running at defenders and the way he can guide the ball around defenders, setting it free from his possession before sweeping it back up on the other side, all are unmatched in CONCACAF.
The time has come for him to leave. Both Pachuca's president and vice president have said this week that there's no deal in place, but Celta is one of several viable options for the player.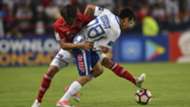 The player himself always has kept a level head, dedicating each goal to his family, but is ready to leave the comforts of home to test himself abroad.
"I feel good, ready and prepared to get better and play more competitive football," he told Nacion ESPN earlier in the week. "Some people have told me that I have opportunities to go to a better league, to a stronger one, and hopefully it will be soon so we can grow as players."
The irony of Lozano helping his team advance in the CCL is that winning the tournament could be the one thing that keeps him in Mexico longer. Just as the 2010 trip to the Club World Cup put several Tuzos in the shop window, playing well against the European or South American champion could boost Lozano's value even more. But if the percentage of the player's rights remain, an amiable sell-on clause like the one reportedly offered by Celta may be too good to pass up.
Ultimately, we can take Pachuca coach Diego Alonso's approach.
"We're trying to enjoy the day to day, we're not thinking about June," Alonso said. "If he goes, it will be best for him. If he stays? Phenomenal."