Liverpool
Can Curtis Jones be the next Liverpool academy graduate to catch Klopp's eye?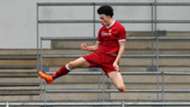 Liverpool and Everton may have played out the most sterile of Merseyside derbies last weekend, but for one Reds youngster it will be remembered forever.
Curtis Jones didn't get on the pitch at Goodison Park in the end, watching from the bench as the sides limped to a goalless draw.
If things go to plan, however, we'll be hearing a lot more about this precocious talent in the coming weeks, months and years.
The 17-year-old was one of four teenagers in the Reds squad against Everton. Handed the squad number 48, Jones took his place alongside academy colleagues Rafa Camacho and Conor Masterson, along with the more established, but not much older, Trent Alexander-Arnold.
It was an eye-opening experience. Events on the pitch may have been tame by recent standards, but Jones and co certainly got a taste of what it means to be part of a derby match.
"They found it interesting," smiles Neil Critchley, coach of Liverpool's U23 side. "Warming up in front of the Everton supporters was quite interesting for them, which I'd warned them about!
"They were delighted to be part of that occasion and a game of that importance, to see the preparation and just being around what the manager says and the players. They take so much from it.
"We were hoping one of them would get on the pitch but maybe, maybe, between now and the end of the season - if they train well – that opportunity might arise for them."
Jones, of the three rookies called up for the Everton game, looks the boy most likely. A Scouser through and through – he was born and resides in the city centre – the confident, silky attacking midfielder has made a big impression rising through the ranks at the club's Kirkby academy, and has been promoted to train with Jurgen Klopp's first team at Melwood in recent weeks. He's already an England U17 international. His talent, and his self-belief, has certainly been noted.
Perhaps that self-belief is why Liverpool are keen not over-hype his progress. Ability is one thing, mentality is another. Anfield staff are eager to ensure that both are spot on.
"He's got an incredible amount of potential, but potential is the right word at this moment in time," Critchley says. "He's not proven anything yet, and he's got a long, long way to go.
"But he's shown in games as an U16 player with the U18s last season, in the UEFA Youth League and the U23s this season, when he's stepped up, he's shown his potential and what he's about. 
"There are quite a few things he'll need to improve in his game, but the exposure he's getting around the first team at the moment, training around those players, I think will be invaluable for him."
On Monday, Jones posted a picture on his Instagram account showing him warming up at Goodison. "Patient!" read the caption. Yep, the kid lacks nothing in terms of confidence. Fazed? He laughed as Blues fans booed and jeered him last Saturday.
"That's one of his best qualities," Critchley says. "When young players come through you see they have something about them – an X-factor – bordering on arrogance at times.
"But he knows there are boundaries here and knows what is acceptable and unacceptable and that certainly is on the pitch as well. Those are the things he will have to iron out in his game when he is older but he is still very young, he's only an under-17 player so he has loads of time. But he's certainly an interesting player for the future."
A post shared by CurtisJr (@curtisjones10) on Apr 9, 2018 at 11:54am PDT
These are good times for Liverpool's Academy. Alexander-Arnold's feats with the first team have been impressive, while behind that both Ben Woodburn and Rhian Brewster are tipped for big futures. Jones, the youngest of the lot, could be next in line.
Steven Gerrard has already described him as a "top, top talent" and has been struck by his technique, footwork and athleticism. Jones has played on the left side, as a No.10 and in a more orthodox central midfield role this season. Where will he end up in the long term?
"Good question!" Critchley smiles. "He is a bit like Ben in that he has incredible footwork and ability around the box so he can score and create goals but he also has an unbelievable endurance and is a fantastic athlete, so he has the capability of also playing in midfield and getting up and down the pitch. In answer to your question, I don't know!"
Wherever he plays, he will be worth keeping an eye on. Liverpool's progression in the Champions League means that, providing they can wrap up a top-four place as early as possible, there will be room for rotation in their final six league games. And with injuries biting, that could mean a chance for the likes of Jones to make their first mark on the senior game.
"If you get your chance by default then so be it," Critchley adds. "It is still an opportunity and you take that.
"Suddenly you get the manager thinking about you differently, they see you in a different light, and you have to grasp that opportunity, because it might not come around again. Don't go to Melwood and make the numbers up, don't go as a tourist, you're there to do a job and to stamp your mark on those players. You have to respect them, of course, but you also need to make sure you get noticed.
"Hopefully, one or two have done that." 
Liverpool U23s are in action on Monday against Everton in Premier League 2. The game will take place at the Merseyrail Community Stadium, kick off 7pm