Opinion
Can Asamoah Gyan hit goal #50 vs. Ethiopia?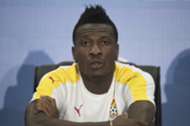 On Sunday, when Kwesi Appiah parades his first starting XI in his second coming as Ghana coach against Ethiopia, he'll surely be expecting—and hoping—to share the spotlight with captain Asamoah Gyan .
The 31-year-old has been a near-ever-present in the Black Stars setup since he made his debut against Somalia in a World Cup qualifier in 2003, as he first served a warning of his quality.
Back then, the hitman replaced former Asante Kotoko striker Isaac Boakye and netted the final goal in an emphatic victory to become the country's youngest scorer.
Since then, he has been relatively consistent compared to some of his peers, comfortably outclassing the likes of Razak Pimpong, Mathew Amoah, Junior Agogo and, more recently, Majeed Waris and Jordan Ayew.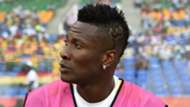 The combined goals of the aforementioned names can still not surpass Gyan, who has now netted 49 times in 102 appearances.
Former Ghana captain Kwesi Owusu, a critic of Gyan, has made no secret of his admiration for the Al-Ahli Dubai FC hitman.
"I think Gyan is a good striker and currently the best in the country," Owusu told Goal, "but honestly, I was better than him although he possesses some of my qualities.
"It is likely he would've been in the Black Stars team during our days, the late 1960s and early 1970s."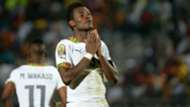 However, despite his undisputed quality, Gyan's goalscoring his slowed, and despite being just two goals away from the 50-goal mark in 2015, he's struggled with injuries in recent years.
He last scored in the 7-1 thrashing of Mauritius at the Accra Sports Stadium in 2015, and he's now fast approaching 600 days without a goal for the national side.
It took Asamoah Gyan 587 days, or 84 weeks or approx 19months to score a goal for Ghana since his brace vs Mauritius on June 14,2015 #Relief pic.twitter.com/5x9yLuhxag

— Evans Gyamera-Antwi (@ashesgyamera) January 21, 2017
'Baby Jet' will be hoping to forget 2016 as soon as possible as he endured a barren year, although he made amends at the Nations Cup earlier this year when he evaded his marker to convert Jordan's fine cross.
That goal sent the Black Stars through to the quarter-finals, and made Gyan Ghana's top scorer at the Nations Cup—with eight goals—and the only player aside Samuel Eto'o to score in six consecutive Afcon finals.
Injury limited his Afcon participation, and has affected him in recent months, with Gyan sitting out the Black Stars' 6-1 thumping of Asokwa Deportivo in a friendly on Wednesday.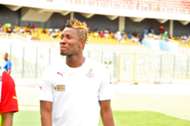 However, Gyan has still declared himself fit for Sunday .
"Everything is fine now and I'm fit for the game. As I always say, I need to be on the field to just do what I do best," Gyan told Graphic Sports.
"The last six games were very good because I saw my fitness coming back. So, it's a good thing for me and for the nation to come back and bang in the goals."
Asamoah Gyan is just a goal shy to hit 50 goals for Ghana..
His first Afcon goal came on January 20, 2008 vs Guinea #BabyJet #CAN2017 pic.twitter.com/cOwiZ7WnSn

— Evans Gyamera-Antwi (@ashesgyamera) January 21, 2017
It is unclear who Gyan will partner upfront on Sunday, as coach Appiah has to choose between Ayew, Waris and 'new kid on the block' Raphael Dwamena.
Could any of these three help Gyan make his half century against the Walias?
The East Africans' frailty at the back was exposed against Algeria during the qualifying campaign for the last Afcon, and don't be surprised to see the former Sunderland man finally join Godfrey Chitalu, Eto'o, Hossam Hassan and Didier Drogba as Africa's legends to score 50 or more goals for their respective countries.
Gyan's Ghana goals: The complete record
1. 16 November 2003 (World Cup qualifier) Ghana 5-0 Somalia
2. 25 June 2004 (Friendly) Mozambique 0-1 Ghana
3. 3 July 2004 (World Cup qualifier) Uganda 1-1 Ghana
4. 3 March 2005 (Friendly) Kenya 2-2 Ghana
5. 27 March 2005 (World Cup qualifier) DR Congo 1-1 Ghana
6. 8 October 2005 (World Cup qualifier) Cape Verde 0-4 Ghana
7 & 8. 14 November 2005 (Friendly) Saudi Arabia 1-3 Ghana
9. 4 June 2006 (Friendly) South Korea 1-3 Ghana
10. 17 June 2006 (World Cup) Czech Republic 0-2 Ghana
11 & 12. 8 October 2006 (Friendly) South Korea 1-3 Ghana
13. 21 August 2007 (Friendly) Senegal 1-1 Ghana
14. 20 January 2008 (Afcon) Ghana 2-1 Guinea
15 & 16. 9 September 2009 (Friendly) Japan 4-3 Ghana
17. 15 January 2010 (Afcon) Ivory Coast 3-1 Ghana
18. 24 January 2010 (Afcon) Angola 0-1 Ghana
19. 28 January 2010 (Afcon) Nigeria 0-1 Ghana
20. 1 June 2010 (Friendly) Netherlands 4-1 Ghana
21. 13 June 2010 (World Cup) Serbia 0-1 Ghana
22. 19 June 2010 (World Cup) Australia 1-1 Ghana
23. 26 June 2010 (World Cup) United States 1-2 Ghana
24. 29 March 2011 (Friendly) England 1-1 Ghana
25. 7 June 2011 (Friendly) South Korea 2-1 Ghana
26. 2 September 2011 (Afcon qualifier) Swaziland 2-0 Ghana
27. 8 October 2011 (Afcon qualifier) Sudan 0-2 Ghana
28. 28 January 2012 (Afcon) Mali 0-2 Ghana
29. 10 January 2013 (Friendly) Egypt 0-3 Ghana
30. 13 January 2013 (Friendly) Tunisia 2-4 Ghana
31. 28 January 2013 (Friendly) Niger 0-3 Ghana
32. 24 March 2013 (World Cup qualifier) Ghana 4-0 Sudan
33 & 34. 7 June 2013 (World Cup qualifier) Sudan 1-3 Ghana
35. 16 June 2013 (World Cup qualifier) Lesotho 0-2 Ghana
36 & 37. 14 August 2013 (Friendly) Turkey 2-2 Ghana
38 & 39. 15 October 2013 (World Cup qualifier) Ghana 6-1 Egypt
40. 9 June 2014 (Friendly) Ghana 4-0 South Korea
41. 21 June 2014 (World Cup) Germany 2-2 Ghana
42. 26 June 2014 (World Cup) Ghana1-2 Portugal
43. 10 September 2014 (Afcon qualifier) Togo 2-3
44. 11 October 2014(Afcon qualifier) Guinea 1-1 Ghana
45. 15 October 2014(Afcon qualifier) Ghana 3-1 Guinea
46. 23 January 2015 (Afcon) Algeria 0-1 Ghana
47 & 48. 14 June 2015 (Afcon qualifier) Ghana 7-1 Mauritius
49. 21 January 2017 (Afcon) Ghana 1-0 Mali