Superliga
Boca fan faces charges after reporting 'stolen two points' as a robbery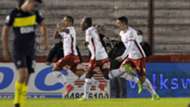 A Boca Juniors fan could find himself in an expensive predicament after calling emergency services to report a robbery, with said theft turning out to be two points 'stolen' by Huracan's 96th minute penalty equaliser on Saturday.
With Boca 1-0 up and the game deep in injury time, Huracan were awarded a spot-kick that was duly converted by Alejandro Romero Gamarra, leading to one fan's fury getting the better of him as he dialled 911 to vent his frustration.
Police later released an audio clip of the call – and the transcript makes for amusing reading.
Fan: I've just been robbed in Parque Patricios, 2400 Amancio Alcorta (Huracan's stadium address).
Emergency Services: How many of them were there?
F: Fifty thousand.
ES: What did they steal from you?
F: Two points.
ES: Two points? I don't understand what you're saying... they robbed two points of what from you?
F: They gave a penalty against me just now.
ES: Sir, this is an emergency line.
F: Ok, ok, I was just annoyed. Fine, goodbye (call ends).
The fan went on to admit that he was just angry, but now faces prosecution for the misuse of emergency services.
Spanish speakers can enjoy the full audio below:
Hincha de Boca llamó al 911 para denunciar... Ahora lo buscan porque usar la línea de emergencias para eso es una contravención. pic.twitter.com/GTpesbjoRU

— Derecho enZapatillas (@dzapatillas) May 28, 2017
 Football-related robberies notwithstanding, Boca remain top of the Primera Division with just four matches to play, sitting four points clear of River Plate who hold a game in hand over their rivals.