Cup
Benni McCarthy: Why Mamelodi Sundowns are tougher than Orlando Pirates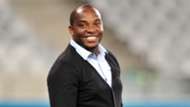 Cape Town City head coach Benni McCarthy believes that Mamelodi Sundowns are tougher than Bidvest Wits and Orlando Pirates.
The 40-year-old tactician was speaking ahead of the Citizens' Nedbank Cup quarter-final match against Sundowns at the Cape Town Stadium on Sunday.
"I wanted to have the experience of playing against a team like Ubuntu (Cape Town) and EC Bees but unfortunately I've got all the big guns'" McCarthy told the media.
City eliminated defending PSL champions Wits and Soweto giants Pirates from this year's Nedbank Cup. 
"It hasn't been a bad way to learn and grow but I think this one is going to be the toughest of the three. No disrespect to the other two that we've faced' they're both quality sides. But when you play the African Champions League winners and the team that's at the top of our league' it's a difficult challenge," he continued.
"But it's also nice motivation for the boys. If you want to win these trophies' you've got to play the best and beat them. Home advantage always helps'" the City coach continued. "When you don't have to travel' you can prepare nicely," he added.
"We are accustomed to the weather and now winter is beginning to arrive' it's the Cape Town we know. Teams from Pretoria and Joburg don't like trips down to the Cape so hopefully that can help us. We are well rested and now it's back to doing what we do best – and that's playing football," he explained. 
McCarthy expects his Sundowns counterpart Pitso Mosimane to field an attack-minded team in the Mother City.
"I think he's (Downs coach Pitso Mosimane) going to go for it' but we will do so too. With the personnel that they're going to bring to the game' they will come at us. The last few games that we've analysed of theirs' they've attacked with four players and various options that he can use," he explained.
"They will want to put us on the back foot straight away and our game is very simple – without revealing what we want to do – but we know we'll be pressed high' which we welcome. We are a good building-up side' one of the best in the league' and we can handle the high pressure game," McCarthy concluded.