Opinion
Benin vs Nigeria: My CHAN trip to Cotonou
African Football Business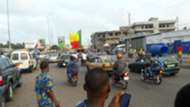 The first leg, final round of qualifiers for the African Nations Championship were held across the continent last weekend. Thirty countries are chasing fifteen slots for the tournament that will take place in Kenya in 2018. Even though Kenya is behind schedule in terms of delivering facilities for the competition that is only six months away, many countries will hope to use the tournament to signpost the strength of their domestic leagues as they chase the $1.25m title prize money.
I travelled to Cotonou to watch Nigeria's game against neighbours Benin on Sunday. It was a full day's trip that saw me drive through terrible roads in order to get to Owode Apa, Nigeria's border town. The road was filled with three-wheel cars and modified vehicles for smuggling. The process of getting stamped across was easy due to my press card. But many people without the privilege of my kind of work usually have it tougher because it is not easy travelling across Africa.
It was my first trip to Cotonou since 2010 and not much had changed in that bubbly city by the Atlantic Ocean. My friends and I hiked our way from Houdegbe to Cotonou around midday in order to find tickets early. This time around I went as a fan in order to experience life outside of the privileges of the media tribune. My first shocker was the fact that match day tickets that were officially 500 CFA ($0.90) had been issued in large numbers and marked up to 700 CFA ($1.26) by resellers right in front of the stadium with policemen looking unconcerned. The underground market safely creamed off 200 CFA on each ticket sold.
Three-wheel car on the road to Cotonou, still wondering about the engineering design. #Cars #modified #roadtrip #Nigeria pic.twitter.com/MEwh3PxFFS

— Lolade Adewuyi (@Jololade) August 17, 2017
We had lunch of rice and chicken in front of the stadium and were offered freshly pressed pineapple juice to wash it down. It was also a good opportunity to dust off my rusty French, which I had not used in a long time. On the return leg, we bought sautéed meat wrapped in brown paper from the roadside which we munched with baguettes on the ride back to Lagos.
The Stade de l'Amitie, Benin's main sports facility, has seen better days. The grounds that hosted the 2005 African U17 Championships was uneven, with a lot of bumpy spots. A part of the tartan track had caved under and was cordoned off so that athletes and service vehicles do not mistakenly tumble in. Many of the seats had become worn out due to the toxic combination of tropical sunshine and rainfall. It cut a similar picture to Nigeria's dilapidated Lagos National Stadium, only that it is the only stadium that Benin has and they are forced to make use of it.
While Ethiopia is investing in new sports facilities as I wrote last week, West African countries have not built new facilities in a while. Not since 2008 when Ghana built three new stadiums for the Africa Cup of Nations has there been massive investment in facilities. Ghana will make use of the stadium in Sekondi to host the WAFU Cup next month.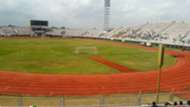 The day ended with Benin's first ever win in a competitive game against Nigeria in 58 years, a 1-0 victory that saw a lot of rejoicing among fans who were happy to finally get the duck off their backs. It was such a big shock for the hosts who have not found much success on the international stage. But Nigeria has an opportunity to regain their respect when they play the second leg in Kano this weekend, otherwise, they would be out of the CHAN. 
The victory is also surprising considering that Benin only recently restarted its domestic league after two years of wrangling within the Federation led to the suspension of play and a short-lived ban from Fifa. CAF had also banned the country for two years for fielding over-age players in the qualifying process for the 2015 U17 Nations Cup in Niger.
My trip to Cotonou showed me the opportunities of African football as a unifier of peoples and a business opportunity waiting to be tapped. But countries need to put in place facilities that would encourage ease of travel. The Nigerian portion of the trip was hectic due to very bad roads. This is enough to discourage many people from attempting to make the trip to enjoy a football game with their friends where they can spend their money on hotels, entertainment, food and drinks.
Needless to say, I got back home very late on Sunday from Cotonou and shared the experience on my social media pages with friends who now wish to have the same. Despite the fatigue, it was a worthwhile experience for my friends and me.
The joy that football brings must be matched with business savvy in order to create more jobs for our continent's teeming young population. Football can provide many opportunities for our young people if we create enabling environments for it to thrive away from the over-politicisation that it faces in many countries.