Arsenal
Bellerin admits Arsenal fan taunts forced him to 'man up', but has no plans to leave for Barca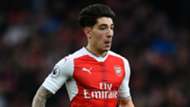 Hector Bellerin has once again played down links to Barcelona and admitted that abuse from Arsenal fans forced him to "man up".
The Spanish full-back was among those to face criticism as the Gunners saw their 2016-17 campaign start to unravel.
Wenger reveals toughest ever period
He slipped out of Arsene Wenger's starting XI on the back of the terrace taunts, as Arsenal sought to emulate the success of Chelsea by switching to three at the back.
Rather than hide, though, Bellerin claims testing times have made him stronger, with everyone entitled to their own opinion.
"It's something you've got to deal with," he told the Daily Mail ahead of a FA Cup final clash with Chelsea.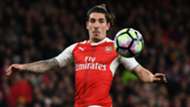 "When you win you're going to get fans chanting your name and when you don't do great they're going to give you stick.
"Fans were coming to me after saying: 'Hector, it wasn't directed at you, it was the whole team, you were there because you had a throw-in and the situation put you there'.
"But, whatever way, it is part of football and I understand. I am a football fan, I've watched football my whole life. When my favourite team didn't do well I'd get angry.
Sanchez wins award, Ozil snubbed
"In that sense, I understand the fans in that situation. They need to pour their anger on me. Fair play. In that game, for example, I wasn't playing at my top level. I need to man up and deal with it.
"You get the perks of football and the cons. That's one of the things that's going to happen. When you're angry you can say something you don't mean. Everyone's got their opinion and sometimes it's going to hurt."
The criticism of Bellerin fanned the flames of intense transfer talk regarding mooted interest from Barcelona.
The 22-year-old has long been linked with a return to his roots but, having committed to a contract at Emirates Stadium through to 2023, he insists that he has no intention of heading home.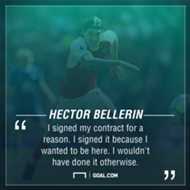 "I signed my contract for a reason," said Bellerin.
"I signed it because I wanted to be here. I wouldn't have done it otherwise.
Wenger plans to give away cup medal
"Arsenal is the club that gave me the chance to be a professional and since the first time I met with the boss he's always said if I progressed the right way I could be an Arsenal player for a long time.
"I've been here nearly six years and I love London. I'm still discovering the city.
"The other day, I was out in the car in east London thinking I'd never been there before. That's what I like about the city."