World Cup
Bayern CEO Karl-Heinz Rummenigge backs United States to host 2026 World Cup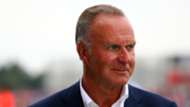 European Club Association chairman Karl-Heinz Rummenigge believes the United States would be the logical choice to host the 2026 World Cup.
How will Trump's travel ban affect World Cup bid?
With the World Cup set to expand to 48 teams from 32 for the 2026 competition, Rummenigge points to the infrastructure in place and passion for the game in the U.S. as positives in the country's attempt to bring tournament back to American soil for the first time since 1994.
"In my network, the United States are mentioned suspiciously often," Rummenigge told Sport Bild. "It wouldn't be bad at all. The interest in football and the enthusiasm for it are in place in the U.S."
Rummenigge, who is also the CEO of Bayern Munich, has long had an interest of building his club's brand in the United States. Bayern has spent two of the past three summers in the U.S., competing in the 2014 MLS All-Star game and the International Champions Cup.
Rummenigge pointed Bayern's 2016 tour during his interview with Sport Bild, saying: "We had 42,000, 54,000 and more than 80,000 spectators in our third match."