England
Barkley: England have the talent to match Croatia's Modric and Rakitic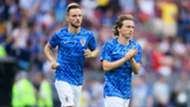 England midfielder Ross Barkley has no doubt his team can compete Croatia's star midfield pairing of Luka Modric and Ivan Rakitic.
Gareth Southgate's men face the World Cup finalists in the Nations League in Rijeka on Friday in a rematch of their World Cup semi-final clash that saw the Three Lions bounced from the competition in Russia. 
The rematch will see England once again come up against one of the top midfield duos in the world in the form of Modric, FIFA's Best Men's Player, and team-mate Rakitic as England look to pick up their first points in the Nations League play. 
Southgate's men lost their opening Nations League clash to Spain 2-1, while Croatia were soundly beaten by the same opposition in their opener. 
And Barkley, who is back in the England squad, said Southgate's side have the talent to go toe to toe with Croatia's star duo and believes that "identity" the Three Lions have found make them a threat to any top team. 
"It's a big challenge but just like any other player you come up against you've got to treat every player with the same respect. But it'll be a challenge," he said.
"You saw in the World Cup how fantastic he [Modric] was and Rakitic as well, he plays for a great side like Barcelona.
"But we've got the players to compete with the big nations, we've got our identity now.
"We went to the World Cup and got to the semi-finals and we're going in the right direction."
England will follow their matchup with Croatia with a clash against Spain on Monday.