African All Stars
Barcelona return would be a dream, says Ajax's Andre Onana
Ajax goalkeeper Andre Onana has admitted that he is looking forward to return to Barcelona where he describes as 'home'.
The shot-stopper joined Barcelona as a teenager in 2010 and spent five years in La Masia Academy before joining Ajax in 2015.
The Cameroon international has been in fine this term, conceding just a goal in his last seven outings in the Dutch top-flight and has been touted to replace Jasper Cillessen who is currently the second-choice goalkeeper in Ernesto Valverde's team.
Cillessen is reportedly considering an exit from the Catalonia outfit in 2019 having made just two LaLiga appearances since his arrival from Ajax in 2016.
And Onana, yet to be contacted by the Camp Nou giants, has not ruled out the possibility of a return but remains focused on his responsibilities in Erik ten Hag's team.
"There hasn't been direct contact, or at least not as far as I'm aware," Onana told Marca.
"Barcelona has always been my home and going back there would be a dream. It would be really big for me. But now, I'm an Ajax player and we have to focus on this. My head is 100 percent here.
"It went well and I left on good terms. I still talk to one of my old teammate and coaches. When we have days off, I go back to Barcelona to visit and say hello.
"That's still my home and for me, it is always nice to see them because La Masia helped me a lot when I was a kid.
"I know that there are many other goalkeepers who are also good and could have a chance to join.
"The philosophy of the club has always been to get the ball down and play from the back, that's something I learned since childhood.
"Before, when I was little, I played outfield and not as a goalkeeper so maybe that also has an impact."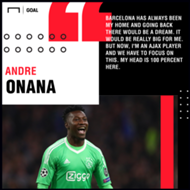 Should the transfer happen, Onana would compete with Germany's Marc-Andre ter Stegen who is yet to keep a clean slate in his last 11 league games for the starting role.
But the 22-year-old is unmoved by the possible competition ahead of him in Valverde's squad.
"Fear? I'm never afraid! That is something that doesn't exist in my life," he continued.
"Football is very simple for me. You learn a lot from mistakes. I understand this sport is fun. If I do well, the opposition will have a bad time.
"If you enjoy yourself, you can compete against anyone. It wouldn't be a case of fear."
The Cameroonian's teammates at Ajax Matthijs de Ligt and Frenkie de Jong have also been identified as transfer targets for Barcelona.
And he has revealed the role is playing in convincing the Dutch players about the move.
"I hope they sign them. I have spoken with both of them and told them how much they would like the city and the weather," he added.
"For them, these aspects are important. Going to a big club is never easy for young players, but Barcelona have always known how to treat players like that.
"They are two spectacular footballers but they are also very good people too and are two hungry footballers who are ready to take on the world."