Mario Balotelli
Balotelli to lead the Azzurri's road to redemption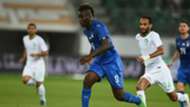 Mario Balotelli showed Italy what they were missing during their World Cup qualifying campaign as the striker scored from open play in his first outing, with the Azzurri after four years in the international wilderness. Italy began a new chapter in their history under new coach Roberto Mancini after the debacle to qualify for the World Cup under Gian Piero Ventura.
Italy's 2-1 victory over Saudi Arabia will inject confidence into the team moving forward as the nation seeks to desperately get back onto its feet. A resurgent Balotelli will no doubt play a huge role in this process as he looks to fulfil his full potential after an excellent campaign in France with Nice. The mercurial forward netted 26 goals for Nice this season, and Italy and AC Milan captain, Leonardo Bonucci, believes that the 27-year-old has finally matured.
Mancini for his part will be aided by his advantage in knowing how to handle the temperamental striker with the pair having worked together at Manchester City. Italy's lack of goals during the World Cup qualifiers was ultimately their undoing. It is simply not good enough for a nation that has produced some of football's greatest forwards.  The Azzurri's dismal figures in the World Cup qualifiers were telling. They only managed a measly 1.8 goals per game despite having an average of 58% possession in their matches. For Balotelli, this is his chance to shine after wasting numerous chances to prove he is one of the best players in the world.
Remembered more for his ill-disciplined and bizarre ways rather than the football he played, the former Liverpool hitman was a frustrating figure wherever he went. Yet there were moments of brilliance that gave audiences a glimpse of what he was truly capable of. Many will agree that his crowning moment came in Euro 2012 where he scored two goals in the semi-final to send an unfancied Italy team into the finals, at the expense of the Germans. His second goal in that game was poetry in motion as he rifled a thunderous shot past a rooted Manuel Neuer. The celebration that came with it too wasn't all that bad.
His country will need more of those performances to emerge from their slump. Balotelli once mentioned that his dream was to win the coveted the Ballon d'Or. Maybe this is the start of his path towards achieving that award. Glory with Italy could finally signal his awaited return to be included in the pantheon of the greatest footballers to grace the game.