South Africa
Bafana coach Stuart Baxter blames 'cheating and time wasting' from Seychelles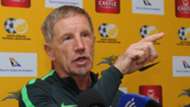 South Africa head coach Stuart Baxter has explained why his side drew with lowly-ranked Seychelles on Tuesday afternoon.
Bafana Bafana were held to a 0-0 draw by a stubborn Seychelles side in the 2019 Africa Cup of Nations (Afcon) qualification Group E match at the Stade Linite in Victoria. 
"I met the Nigeria coach (Gernot Rohr) in London and he told me that the pitch was the worst he had played on, and I agree with him. A combination of the pitch, time wasting, cheating, and a poor refereeing performance," Baxter told reporters.
The result saw Bafana slip down to second on the Group E log after Nigeria secured a 3-2 win over Libya on the same day. 
Baxter's side was hoping to emulate the Super Eagles, who thrashed the Pirates 3-0 at the same venue last month. 
The 65-year-old mentor accused Seychelles of cheating during the encounter which was played on an artificial turf.
"There was some unbelievable cheating and time wasting from our opponents. We also hit the post and we were denied a clear penalty while Nigeria got a penalty there. Those are the margins, you need some luck on that pitch," he continued. 
"It was impossible to prepare for the astro turf because we were preparing for a game at FNB. You can't chop and change, and say, 'let's go to an astro turf'. Otherwise, we would have been caught with our pants down at FNB. In Seychelles, it was line playing on rubber," he explained.
"I don't want to say this is Africa, but the referees, pitches, and the faking of the injuries, is a very difficult challenge. That's the frustration for me. We were ready for the game. We were not complacent," he concluded.
The encounter was officiated by Tanzanian match referee Mfaume Ali Nassoro.